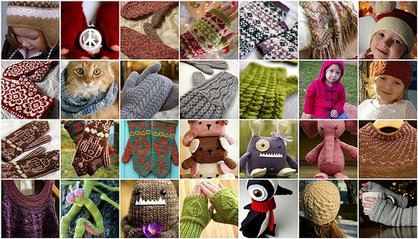 Happy New Year everyone! With the start of 2010, we decided we'd do a quick round up our our knits from last year. Though we took a break from blogging in the middle of the year, we still managed to make some pretty great stuff the last few months, and come out with two new patterns. Here's the breakdown:
Hats
Habitat
Felted Fair Isle Hat
Rose Red
Santa Hat
Mittens
Aspen Mittens
Breathe Deep Mittens
Dean Street Mitts
End of May Mittens
Leafy Mitts
Reading Mitts #1
Reading Mitts #2
Robot Mittens
Sunday Mittens
Wintry Mix Mitts
Toys
Elijah
Le Penguin (sewn)
Maddox
Penelope
Pile-Able Pups
Praying Mantis
Garments and Accessories
Duck Soup
Fiona's Top
Prickle Cowl
Spiral Yoke Baby Sweater
For the Home
Ab Fab Throw
This year we've set lots of goals for ourselves and our blog. We're hoping to put a few more design ideas we have down on paper and write patterns. We also both want to knit sweaters for our husbands, and plenty of baby knits for our new niece who's arriving this March. Grace and I have joined the 10 Shawls in 2010 Ravelry group and are excited to try new techniques and lots of different yarns. We're also looking forward to the 2010 Ravelmpics and Malabrigo March which are sure to be lots of fun.
We hope that 2010 will be a productive year for everyone! Stay tuned, because there are some other surprises we have in store for you and can't wait to share!