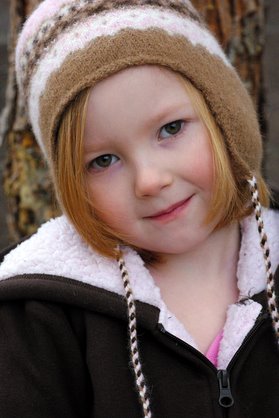 Project Specs
Pattern: Fair Isle Hat by Alison Williams
Pattern Source: Blue Sky Alpacas
Yarn: Blue Sky Sport Weight in #503, #501, and #500, Blue Sky Melange in #810, less than 1 hank each
Needles: US3 16" Addi Circular, US3 Clover Bamboo DPNs
Date Started: ?/?/08
Date Finished: 12/15/09
Finished Size: Fits 19 1/2" head after felting
Modifications: Felted the hat to make it Camdyn sized, did 4 color braided ties
See it on Ravelry!

I'm not quite sure when I first saw this pattern, but the moment I did I bought the recommended yarn and excitedly waited for it to come. Once here, I started in on the hat right away. It went by very quickly (in part because I loved knitting with the yarn so much) but stalled out when I got to the crocheted edging. No matter what I did--even after blocking--the stockinette based hat had major curling issues at the edges and on the earflaps. I decided to set it aside and start in on the mittens.
The mitten design is adorable though I really feel for the person who knit the sample for Blue Sky Alpacas. The instructions are very vague and many times you're carrying 4 colors per round. I ended up bagging the whole thing when I realized I'd been concentrating so much on working the small charts and keeping all my yarns straight that I'd forgot to work the instructions to add in the thumb gusset "at the same time" .

I stumbled on these projects again when I was going through my big pile of UFOs this month. After trying on the hat I realized I looked absolutely ridiculous in it and toyed with a few ideas to make it better. I finally landed on felting--of course this hat would look way better on Camdyn, but if the plan went awry there was no turning back. I decided to be extra careful and full the hat by hand to make sure it felted evenly and not too much. I was really happy with how the Blue Sky Sport felted. It's nice and fuzzy, but the hat isn't overly stiff or heavy. I finished the hat off with my favorite four strand braided ties, this time in all four colors. In the end I'm glad I took the risk with felting, and now Cam has another cozy hat for this winter, which is good because she has grown out of nearly every other hat I've made her!

After my success salvaging the hat, I decided to try my luck with the mittens. I fiddled with them for awhile longer and decided just to scrap them once and for all. I figured there's no point in pulling my hair out over this pattern when there are so many other mitten patterns out there that I want to knit by independent designers that are much better written-and fully charted! I actually ended up starting up my End of May Mittens later that day which I loved knitting and totally cured my mitten buzz-kill.
Because I loved working with the yarn so much (and because it's divinely soft) I knew I wanted to make something for myself with the leftovers. I've actually already started a pair of Wintry Mix Mitts and it's working great. I'm using four colors instead of three, and it's been fun deciding where to use each one. I've got one mitt finished, and can't wait until I can have a completed pair to wear everywhere!