Simply Seamless Pouch
Designed by Grace Schnebly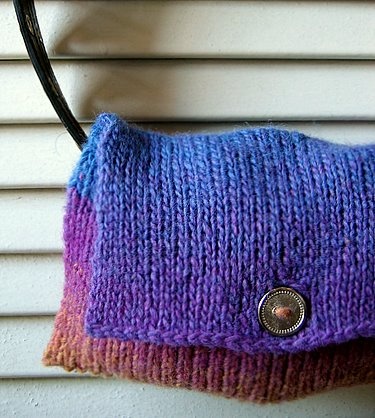 Variety is the spice of life right? Well the three versions of this purse allow you to personalize it to your style! You can knit the pouch plain to make a funky clutch, attach a strap to make a cute little wristlet, or add belt loops if you're the kind of person who is always on the go. It's the perfect size to hold your cell phone, mp3 player, and keys. This super simple purse would make a great last-minute gift especially since there is no seaming required!
This is a fun technique that allows you to knit a pouch flat, on straight needles. That's right—no wrestling with DPNs or bulky seams here! Give it a try!
Size
approx. 8" wide x 5" tall
Materials
1 ball of SWTC Karaoke in #198 New Splash (50% Soy Silk/50% Wool, 50 grams/100 meters)
US 6 (4 mm) straight needles, or size needed to obtain gauge
US 6 (4 mm) double pointed needles (only needed for wristlet version) Stitch holder
Measuring tape
Tapestry needle
One ¾" (19mm) button, silver
Gauge
4 – 5 st*/inch on size 6 needles in slip stitch pattern.
*Gauge often varies due to inconsistent thickness in the yarn used, please read our review of SWTC Karaoke to find out more about the characteristics of this yarn.
Pattern Notes
Slip Stitch Pattern (stockinette): k1, bring yarn to front, slip st purl wise, bring yarn to back
Pattern
Cast on 64 sts on size 6 straight needles.

Work in slip stitch pattern to end of row. Using this pattern stitch you will be creating a pocket. Continue working in this fashion until piece measures 5 inches; this will form the main pocket.
Place every other stitch (32 sts total) onto the stitch holder. This will allow you open up the pocket. Bind off the 32 stitches which remain on the needles. Transfer stitches from the stitch holder to needles and continue working in stockinette stitch until piece measures 3" from beginning of flap, ending on a purl row. Knit 15 sts, BO 2 sts, knit 15 sts to end of row. Next row, purl 15 sts, CO 2 sts, purl 15 sts to end of row (the previous two rows create a button hole). Continue in stockinette stitch for four more rows. BO all stitches. Weave in ends. Block piece to prevent flap from rolling.
Align button so that it matches the small hole created on the pouch's flap. Attach the button to the front of pouch using the same yarn. Weave in all lose ends.
Wristlet Varation
Using double pointed needle, pick up three stitches along the inside edge of one of the top corners, near where the flap meets the body of the pouch. Work an I-cord over these three stitches until it measures 12 inches. BO sts. Attach this end to the body of the pouch, just below where the other end of the I-cord is attached. Make sure both ends of the I-cord are attached securely. Weave in all ends.

Belt Pocket Varation
To create belt loop, cast on 8 stitches. Work in stockinette stitch until piece measures 3.5". BO stitches. Leave long tails at beginning and end of piece for attaching to pouch later. Repeat to create a second loop. Block flat. After blocking, attach the belt loops to the back of the pouch. Belt loops should be placed near the top of the pouch and ¾ inch in from the sides. Use backstitch to attach both ends of the loops, leaving the middle open where belt will slip through.
If you like this pattern you should check out our Seamless Nintendo DS-Lite Sock pattern!