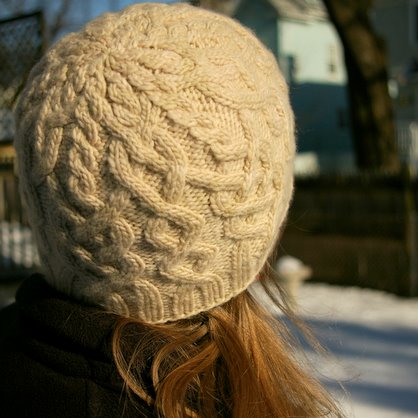 Project Specs
Pattern: Habitat
Pattern Source: Jared Flood's Ravelry pattern shop
Yarn: Malabrigo Merino Worsted in Pale Khaki, 56g (121 yards)
Needles: Denise Circular Needles in US 7 (for ribbing) US 8 for body of hat, US 8 DPNs
Date Started: 1/9/09
Date Finished: 1/21/09
Finished Size: Large
See it on Ravelry!

I just got back from visiting Alice and the rest of my family in Las Vegas and it was a real shock to the system going from the upper 60s every day to snow and highs in the 30s. I started this hat on the plane ride to Vegas, and it really made a good travel knit. I swear hats are the ultimate travel companion since they're quick to knit and don't take up much space in your carry on bag. This pattern was particularly good for the plane because the cables kept my interest (I worked the cables without a cable needle) and there weren't a huge amount of instructions to read through. It did take a little time for me to get used to the notation Jared uses for his cable charts but after a few repeats I caught on.
It seems lately all I've been using is Malabrigo! It does work wonderfully for this hat, making it so warm and soft. I've been wearing it around the house lately since we have the heat turned down to save energy. The fit is just right, and I like the length of the larger size because it perfectly covers my ears. I guess in a winter like this, you can never have too many warm hats or mittens around!

Habitat will join Koolhaas as one of the patterns I'll look to when picking out the next perfect gift knit. I like the fact that it is unisex; I can see knitting one for my husband, sister, or brother-in-law. The only thing I might change would to be to replace the smaller meandering cable with twists.