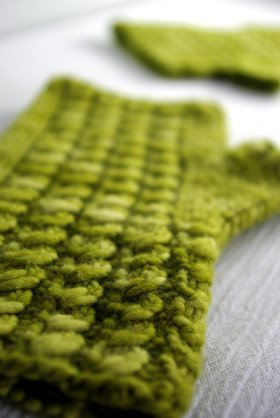 Project Specs
Pattern: Dean Street Mitts designed by Nina Machlin Dayton
Pattern Source: Nina's Ravelry Store
Yarn: Malabrigo Merino Worsted in Lettuce, less than 1/2 skein
Needles: Size US5 Clover Bamboo DPNs
Size knit: Medium
Date started: 1/7/09
Date completed: 1/9/09
See them on Ravelry!
It's hard to believe I haven't posted about these cute little mitts yet! I test knit this pattern for Ninaknits way back in January. After finishing these up I set them aside to give to my mother and they totally got lost in my craft room until now. I'm glad I finally get to show them off!

The mitts knit up quickly and has instructions to fit a wide range of sizes (all the way from child's large to men's). I love how the stitch pattern really highlights the beautiful color variation in Malabrigo. This pattern would even be a great match for the variegated Malabrigo colorways that, even though they're gorgeous, I have a hard time finding the perfect use for them. I could see easily modifying the pattern to make a longer mitt by adding length to the cuff or above the thumb for more finger coverage. On top of all that, these mitts have awesome gifting potential. I can see everyone from a teenage girl to men (in the right colorway) wearing these. Each pair only uses about half a skein of Malabrigo so it's a great stash buster. You can even pair them with Nina's free Dean Street Hat pattern for a perfect matching set!

In the pattern there are illustrated instructions on how to do the Cable Twist stitch used. It's really easy to execute and there's no need for a cable needle! Overall I had no problems understanding the directions and everything came together so nicely I didn't want to put my knitting down. I'd definitely recommend Nina's pattern to anyone looking for a quick go-to mitt pattern!
I've also pulled out a few WIPs that have been sitting around for months (and, for some, years). Some are beyond saving and are destined to be frogged, but I'm hoping to push through and finish up a most of them in the next few weeks. I can't wait until I have no random half-finished projects! Am I the only one that does this or do you guys have the same problem?
Grace also wanted to extend a thank you to everyone who voted in the Mochimochi Land photo contest! Her photo of Luna came in second! So thanks a bunch and also congratulations to the other winners.