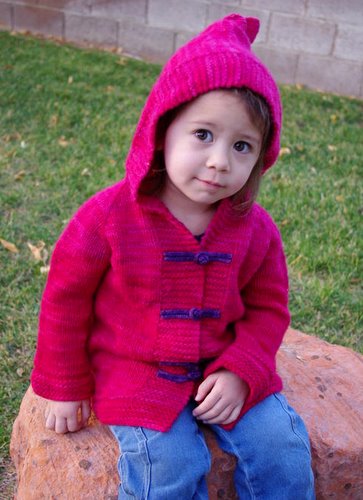 Project Specs
Pattern: Duck Soup designed by Anny Purls
Pattern Source: Jujube & Lolo
Yarn: Malabrigo Merino Worsted Scarlet 250g (525yds); Malabrigo Sock in Violeta Africana 5g (22yds)
Needles: Denise Circular Needles and Clover DPNs size US9 for jacket, DPNs size US1 for ties
Date Started: 12/27/2008
Date Finished: 5/29/2009
Finished Size: 2/3 years
See it on Ravelry!

I am so glad we're back into blogging because I'll finally get to post some knits that I finished while we were on break! Honestly I didn't get much knitting done while we were gone, but I did finish up a few things and this jacket is one of my favorites. It was originally supposed to be a Christmas gift for my niece Jojo last year but didn't get it finished and sent to her until late spring! Yikes! Fortunately it fits her just perfectly this winter and should grow with her for the rest of the season.
This little jacket was one of my favorite knits ever. I just love the style, and despite how long it took me to finish it was actually a fairly quick knit! The pattern was fun and laid out very clearly. It includes instructions for a wide range of sizes between 3 months to 4/5 years, and since the design is unisex, this pattern is a must have for anyone who has kids to knit for! Another thing that drew me to this pattern was that no buttons are required; you make your own icord buttons and loops so there is no need to run to the craft store at the last minute.

The pattern calls for bulky weight yarn but I had three amazing skeins of Malabrigo in Scarlet that I bought specifically for a gift for Jojo and wanted to use those. I had never seen this colorway before and when I ordered it I was imagining a strong red, however it turned out to be a very vivid magenta. Two of the skeins were a bit darker and less varied than the first one I used and I should have alternated my skeins every few rows. You can kind of tell that the hood and shoulders of the jacket are a bit of a different shade than the rest, but I've learned to love it and I know Jojo doesn't mind. Since I switched to worsted weight yarn, I had to go up a needle size to US 9s to get gauge. In the end the jacket turned out to be a little lighter and just perfect for Las Vegas winters.

I think the jacket itself only took me about 4 days of evening knitting to complete. My problem was that I kept putting off the finishing, and there wasn't even that much left to do! The jacket is worked from the hood down and since I picked up the stitches for the underarm, I really only had one seam to sew. I used a provisional cast on (as suggested as an option in the pattern) to make it extra easy on myself, having to only Kitchener stitch up the top at the end. The ties were what really put this project on hold, and not because they're in any way difficult, but simply because of my laziness. Once I got myself to do them it went pretty fast. I first tried using Malabrigo Worsted in Glazed Carrot for the ties, but they just turned out too bulky so I switched to Malabrigo Sock. I had some of the Violeta Africana colorway left over from the Fionas Top I made Jojo for her birthday and am really glad I switched to this yarn because I love how the color combination turned out. I had to knit the icords for both the loops and buttons longer than suggested in the pattern. It took a bit of trial and error to get them just right but really speeds up once you have one set done.
I will definitely be knitting another Duck Soup. I want to knit a 3 months size in green or yellow to keep on hand as a future baby gift and maybe a larger sized one to give to Camdyn before she gets too big.