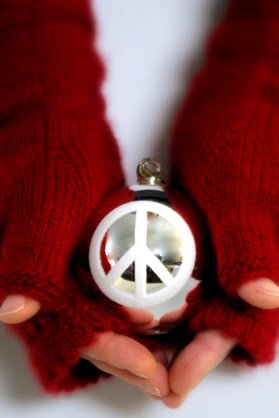 Project Specs
Pattern: Susie's Reading Mitts designed by Janelle Masters
Pattern Source: Dancing Ewe Yarns and Teas
Yarn: 46 g (150 yds) Karabella Boise in color #63
Needles: US 6 Clover Bamboo DPNs
Date Started: 12/11/09
Date Finished: 12/16/09
Size: Large
Modifications: Decreased one more stitch to 44 on round before YO round in first lace pattern (you need an even number for the eyelet row to work out) See them on Ravelry!
Wow, I can't believe it's been almost a year since I knit my first pair of Reading Mitts. Since then over 800 more pairs of mitts have been made from Janelle's pattern, and I can see why people were really drawn it. It's simple, functional, and has a beautiful end product. When I went to make another pair of these mitts as a gift, I was surprised to see the pattern had been totally revamped. It now includes instructions for three sizes and is available in PDF format to download from the Dancing Ewes Website.
There is a little error in the new pattern. When knitting the small and large sizes, you end up with an odd number of stitches after the decrease round. For the eyelet row in the lace pattern to work out, you need an even number. I ended up discreetly decreasing another stitch at the beginning of the plain knit round before the YO round. This way I eliminated the extra knit stitch at the end of the round.
I wanted to choose a yarn that would really make these mitts super special. I decided on some Karabella Boise in a beautiful deep red that I picked from my stash. The yarn is a 50/50 blend of merino wool and cashmere. At first I thought my yarn choice made these a little flimsier than I wanted, but after washing, this yarn really transformed. I soaked the mittens for half an hour in Kookaburra Delicate wool wash. Once they were dry you could really see the difference in this yarn. The stitches plumped up and developed a beautiful fuzzy halo, and even though I could hardly believe it was possible, the yarn became softer. The finished mitts can be worn with a little slouch at the wrist and are very warm and cozy.

Although this yarn is beautiful, there are still a few downsides to working with it. First, it does not frog well and if you want to rip out knitting that wasn't just completed it's pretty impossible. I did my first bind off too tight and while undoing it, I actually had to cut the fuzz apart to get some stitches unattached from each other. My best advice would be to be extra careful as you knit. I couldn't imagine using this yarn in a lace shawl and having to tink back a few rows. It would be a nightmare. Second, because of the extreme softness of the yarn, the finished objects made from it will be prone to pilling. This will bug a lot of people, but in my mind its the price you pay for something so buttery soft! Boise is also on the expensive side; fortunately I was able to knit this pair of mitts with just under one ball. In my mind I ended up with a pretty affordable luxurious gift, and I know the recipient will love them!
While I was taking these photos, Camdyn couldn't keep her hands off these mitts! When I was finished she asked if she could wear these while she was playing Wii. I couldn't see any harm in letting her and went to work on packing up my gifts. When I came back to check on her she wasn't wearing the mitts on her hands and I panicked thinking that she had just discarded them somewhere on the ground (my dogs consider any handknit within their reach fair game as a chew toy). I couldn't believe my eyes when I saw that she was now wearing the mitts on her feet! She had been walking around in them and they were totally embedded with chihuahua hair. When I asked her what she was doing her reply was, "It just feels so good!" Gotta love the girl for her great taste in yarn! I have some more Boise yarn in my stash, so I think I definitely need to make something with it for Cam!