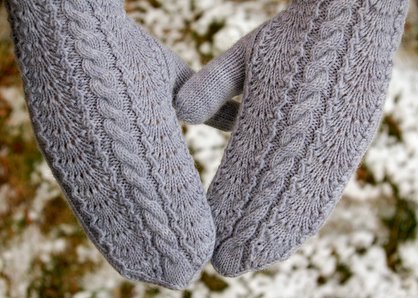 Project Specs
Pattern: Sundagsvotter designed by Strikkepanja
Pattern Source: Dugnadsmønster
Yarn: Araucania Ranco in #109 Lilac, 50g (188 yards)
Needles: Clover DPNs size US 1
Date Started: 12/2/09
Date Finished: 12/4/09
Finished Size: Women's Medium/Large, 9.25" from finger tip to bottom of cuff
Modifications: Mirroed cable twist on left hand mitten, removed last cable twist to make them less bulky at the top, and picked up 5 stitches on palm side for thumb instead of 6.
See them on Ravelry!
I found this pattern last year when searching for a pair of mittens to give my grandmother for Christmas. Back then the pattern was only available in Norwegian. I tried a few times to translate it myself, failed miserably, and soon gave up. When Alice told me several days ago that it had been translated, I was really excited and cast on the next day. Two days later I had these lovely mittens finished!

The beginning of the pattern warns that there might be some guesswork involved, but I thought it was clear enough that anyone who has knit a mitten or two before would definitely understand. Before I started my first mitten I converted the written instructions into a chart which was helpful in keeping track of when to cross my cables and do my thumb gusset increases. I did alter a few minor things like mirroring the cables, removing the last cable twist near the top of the mitten (I tried it both ways and without the cable it is a lot less bulky), and picking up five stitches where the thumb meets the palm instead of 6. I increased to 19 stitches for the thumb gusset, and with the five extra stitches picked up, the fit was perfect.

With the holidays rapidly approaching, I was very happy with how quickly these knit up. Once you get past the cuff, the pattern just flies by. These mittens don't require a ton of yarn either (many of you might even have a partial skein of sock yarn that would work!), and the stitch pattern stretches so you don't have to worry as much about achieving the perfect fit. This pattern would also be great for people who live in places with mild winters and don't need the warmth of thick stranded mittens. I'd recommend this pattern to anyone still looking for the perfect knit gift for that person on your list who has sophisticated tastes.

I've been meaning to use Ranco for some time now. I have a rather large stash of it built up, but for some reason always forget about it when it comes to picking out yarn. This is one of those yarns that really benefits from a good soak and wash, helping to even out the stitches and soften the fibers. The color variation is nice and subtle. I like how it is barely noticeable on the parts of the mitten with texture. The color I picked isn't the most exciting but I think it will be perfect for my grandmother who I'm sure wouldn't want anything too flashy. I also like that the yarn is machine washable so she doesn't have to worry about accidentally felting them.
I'm trying to finish up all of the presents that I'm making for my family in Washington and get them sent out this week. Last year I working right up until two days before Christmas, and although I sent the package express, the package didn't arrive in time. :( Hopefully this year I'll have learned from my mistakes and get them out on time!