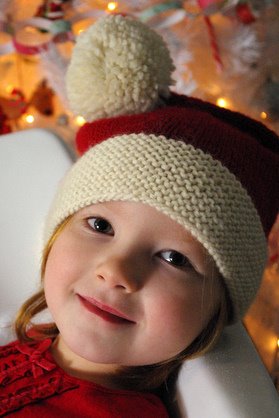 Project Specs
Pattern: Knitted DROPS Christmas Hat
Pattern Source: DROPS Design
Yarn: Lamb's Pride Worsted in Red Hot Passion, Ironstone Harmony in Color #12195
Needles: US 7 and 8 Clover Bamboo DPNs
Date Started: 12/3/09
Date Finished: 12/5/09
Finished Size: 10" across and 10 1/2" tall (not including pompom)
Modifications: Cast on for the 7-8 year size but knit to the 5-6 size measurements before the decreases, worked three knit rounds instead of two after the first three sets of decreases. Knit at a smaller gauge than called for with smaller needles. Omitted crocheted edging.
See it on Ravelry!

It happens a lot; Grace will send me a link to a pattern saying, "This is cute!". I agree and add it to my queue. This time when she showed me this little hat, I just had to cast on for it right away! This pattern was the perfect distraction from my Christmas gift knitting and pile of old UFOs. Plus I got to use random stash yarn and the finished product was darling. Definitely a win-win!
Because of the yarn I chose, I knew I wasn't going to get the gauge stated in the pattern. I ended up casting on for a larger size than I needed with smaller needles to make it work out. My hat ended up a great size for Camdyn's 19.5" head. There's a bit of room to grow so I think she'll even be able to wear it next Christmas as well! I tried to make up for some of the length I lost by using smaller needles by adding an extra round in between the first few decreases at the top of the hat. The hat still ended up slightly shorter than the original, and I think I could have been safe adding in an extra row after all the decreases. Even though my hat is a little shorter than intended, It's still extremely cute and Camdyn loves wearing it!

Before I blocked the hat I was concerned that the red Lamb's Pride would bleed into the cream brim. I decided to test my theory by first washing the red top part of the hat by itself (while carefully holding the band above water). I am so glad I did! I ended up having to wash and rinse the top of the hat twice before the water ran clear. After that I just washed the hat as usual in wool wash, which left both yarns significantly softer.
This hat could easily be whipped up before Christmas for any kid in your family, or easily upsized if you want to play Santa yourself. If I have time I'd love to make Camdyn some matching Elf Shoes to wear on Christmas morning, but I think that's wishful thinking with all the gift knitting I still have to do!