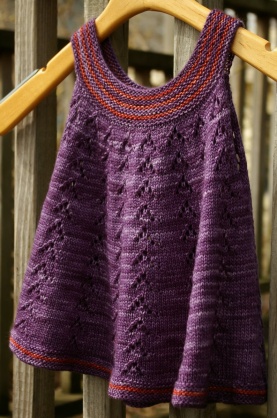 Project Specs
Pattern: Fiona's Top designed by Sanne Bjerregaard
Pattern Source: Rasmilla Etsy or Ravelry Shop
Yarn: Malabrigo Merino Sock in Violeta Africana, 79g (350 yards); Malabrigo Merino Sock in Boticelli Red, 5g (22 yards)
Needles: 24" Addi circular size US 3 for neck band, 32" Addi circular size US 4 for body
Date Started: 3/21/09
Date Finished: 3/25/09
Finished Size: 11" from neck to hem, to fit 2 year old.
Other Supplies: 2 12mm buttons
Modifications: I was working with the second version of the pattern I was sent (there have been 6 new versions sent since) and could not make sense of the instructions for the front. I just made sure that the front lace repeats matched those on the back, after 3 lace repeats (counting down from neck band) joined the body of the tunic in the round and continued until a total of 11 repeats were knit. Used the jogless garter technique for the bottom edging.
See it on Ravelry!
I'm so proud of myself for actually being able to get a jump on some birthday knits this year! You might remember earlier in March I knit a Maddox for Jojo's birthday, well I also made her this little top which I can't wait to see her wear. Since Jojo's birthday is in the Spring I wanted something she could wear immediately and not have to wait all summer to be able to enjoy her present. It was a bit of a challenge finding something that would work for spring or summer, be knit out of wool (I decided I wanted to use Malabrigo sock before I had picked out the pattern), and not weigh her down or cause her to overheat. I think this little tunic accomplishes just that!

First off I should state that the design is really cute. I love the garter stitch collar and the lace pattern is uncomplicated and creates a sweet and simple top. However the pattern is another story. Quite frankly it's a mess and since I first purchased it on March 19 I've received 6 different updated versions. I had put off buying the pattern for about a month because $9.00 is definitely oh the high end of pattern pricing, but since the pattern had been around for a while and quite a few other people had knit it, I thought it would be a really well done and worth the money. Sadly it just seemed unfinished, so if you decide to knit this pattern be prepared to frog and reknit portions until you figure out something that works.

The pattern is knit from the top down, and everything was going well until I started knitting the front, this is when the pattern stopped making sense and the instructions felt rushed. There were a few conflicting numbers such as where to make the arm holes, the instructions for the back of the pattern say after 4 repeats, and the front says after 3 (I went with 3). At this point I just threw out the instructions and just matched the front pattern repeats to those on the back, making sure the number of plain knit rows between the lace pattern would be consistent and match up once I got past the armholes. I also modified the pattern to be knit in the round after the armholes. I had to place a few decreases under each armhole to get the numbers to match up with the lace pattern but it was simple enough and a major time saver too. After knitting 11 repeats in total, I worked the garter stitch edging used the jogless garter technique I learned from Alice a while back. I should note that I knit this top using the second version of the pattern I received so all of this could be moot. I haven't really looked through the newest version very closely, but it does appear to be clearer and more detailed in places. I plan on knitting another one of these tops for Camdyn sometime this summer with the current version of the pattern, so I'll be sure to update you then.

This was my first time knitting with Malabrigo Sock and I absolutely loved the yarn. Like all of the other Malabrigo yarns, the colors are amazingly vibrant. I was so pleased to find that the purple resisted pooling, since this was a concern of mine before knitting this top. I know my sister will apperciate being able to machine wash it since it is bound to get dirty and spilled on (bascially normal the 2 year old wear and tear). I handwashed the top in warm water and a bit of Soak wool wash to see if the colors would bleed and I was surprised to find no trace of dye left in the water. I did have one problem with this yarn, and that was winding the purple skein into a cake was an absolute nightmare! It almost immediately became a tangled mess on the swift. If my husband didn't volunteer to untangle it for me I would have probably lost my mind! Fortunately the second skein was a breeze to wind, but I've read that this is a common problem with Sock so beware!
I'm sad to see Malabrigo March gone. I didn't get everything I had planned finished but I have quite a few FOs and WIPs laying around here that I need to post so keep an eye out for them! I'll also get a few photos of Jojo modeling her new top once I send it off to her this weekend.