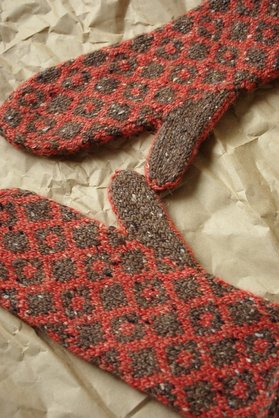 Project Specs
Pattern: Aspen Mittens designed by Jennifer Adams
Pattern Source: Jennifer's Ravelry Shop
Yarn: Knit Picks City Tweed HW, 60g (100 yds) Tabby for MC, and 49g (81 yds) Cajun for CC
Needles: US 8 Clover Bamboo DPNs
Date Started: 12/16/09
Date Finished: 12/19/09
Size: Adult Medium, 11" long and 4" across
See them on Ravelry!

If you're still looking for a last minute gift, this could be the pattern for you. These mittens could be knit in a day (if you push yourself!) or over the course of 3 or 4 days at a leisurely pace. Because they're knit in a heavy worsted weight yarn, you really feel like the pattern just flies by! My only problem is, now that they're done I don't want to give them away!
These mittens are super cushy and soft, with a nice long cuff for keeping out the winter chill. If you wanted, you can even remove one of the pattern repeats on the cuff for a shorter look and an even faster knit. The colorwork pattern is one of the easiest I've knit, and would be great for a beginner colorwork knitter or someone intimidated by small needles. I had the pleasure of test knitting this for Jen--I don't think I'm capable of turning down the opportunity to knit a new stranded mitten pattern!

Jen was so kind to send me some City Tweed HW to knit the pattern with (thanks Jen!). I was a little apprehensive about the yarn, since I've had both good and mediocre experiences with yarns from Knit Picks. Overall I was very impressed with City Tweed. This yarn would be great for those who like the look of tweed, but need something softer and less rustic than other tweeds. The flecks of the tweed are all in natural colors, so they don't look like party confetti like some other tweeds out there. It plumps up nicely after washing to create even stitches. My only real complaint would be it might not be substantial enough for some projects, and those who really like rough tweed would probably be disappointed. I also ended up having to empty and refill my soak water because my colors bled a little during the first rinse, though it wasn't anything abnormal. I can think of plenty of projects I'd like to use this yarn for in the future though, and there are lots of gorgeous colors, so I can definitely see using it again!
These mittens are heading out in a big package of knits I'm sending out today! I'm so excited (and relieved) to have my first round of gifts out. I think today I'm going to give my hands a much deserved break. Good luck to all of you who are still working on your gifts and I look forward to seeing the great things you're making!