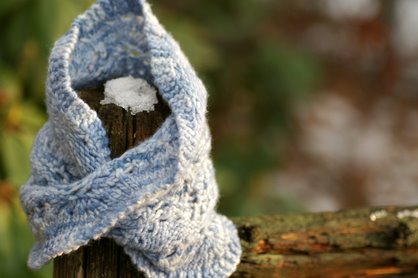 Project Specs
Pattern: Prickle designed by Huan-Hua Chye
Pattern Source: Huan-Hua's Ravelry Store
Yarn: Malabrigo Merino Worsted in Bijou Blue, 54g (113 yds)
Needles: US 10 Denise Circular Needle made to 34" long
Date Started: 8/12/08 @ 2:00 PM
Date Finished: 8/13/08 @ 1:15 AM
Size: 16" around x 9" at widest
See it on Ravelry

Wow, we really seem to be digging into our bag of old UFOs lately! I guess I wouldn't have really considered this cowl a UFO, it is more like an unfinished completed object. I finished knitting it all the way back in August of 08, but I just never got around to washing and blocking it! I don't know, it is just one of those projects that I kept putting aside for no real reason. This was actually the first project I started and completed for the 2008 Summer Ravelympics. Back then I was too busy to post it, which then turned into too lazy to post it.

This pattern is really cute and a great way to introduce yourself to moebius knitting. It includes lots of photos of finished cowls, instructions and links on how to cast on and knit a moebius, and several different options to make the cowl just the way you want. I'd suggest reading the whole pattern through before starting because the moebius cast on can be a bit hard to wrap your head around at first. If you've ever done a provisional cast on though, it should be no big deal. Since knitting this pattern I've found this amazingly helpful video on knitting a moebius by Cat Bordhi. I wish this was posted when I was starting mine!

I knit my cowl according to Option 1 in the pattern and finished with the garter stitch edging (Option 2). I really like the finished length but the circumference turned out too small. I have a 22" head and can barely get the cowl to fit over it. I think it is probably because I made my cast on too tight (it being my first moebius cast on and all). If I were to knit this again I'd probably try casting on more stitches to get at least one more pattern repeat in there. In the mean time I'll be giving this one to Camdyn; I think she'll enjoy figuring out and playing with the moebius anyways!

Blocking this cowl is a little different than a normal knit simply because there is no right or wrong side (it's all the same side!). After washing the cowl, I laid it "flat" with the twist in the front. Then throughout the day I came back to it 2 or 3 times and repositioned the twist so that it wouldn't favor a single spot when dry. This way the cowl still has a little bit of texture from the lace pattern and twist can be easily positioned.
I have to give a great big thank you to my sweet Peanut for modeling this cowl. It didn't fit me but it fit him perfectly!