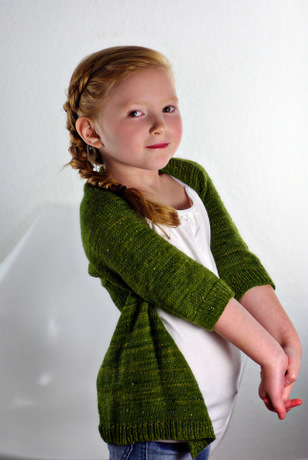 Project Specs
Pattern: Wispy Cardigan designed by Hannah Fettig
Pattern Source: Hannah's Ravelry Pattern Store
Yarn: 132g (526 yds) Dream in Color Starry in Shiny Moss
Needles: KnitPicks Nickel Plated Options Circular Needles size US5 and US7
Size Knit Child's 4/6
Date Started: 9/5/2011
Date Finished: 9/12/2011
Modifications: Knit skirt portion longer (9.5"), knit back section shorter (14" total across), knit sleeves in the round, worked sleeve ribbing on smaller needles, omitted gathering at middle back
See it on Ravelry!
This summer we were lucky enough to get to spend a nice long vacation at Grace's place and for my birthday she let me pick out some yarn from Mr. Yarn. I chose some Dream in Color Starry. I've never worked with it before but have been wanting to try it for some time. I opted for a rich olive green, which I thought was a good contrast to all the silver sparkles. Knitting with Starry is nice--just like knitting with DIC's Smooshy which I've used before. It's very crisp in the hand and produces a nice fabric (even on US7s). If you're intimidated by all the glitz in a skein of Starry, it actually becomes more subtle once it's knit up, with an even spattering of sparkles that seem to catch the light just right.

While the yarn is a little crisp feeling during knitting, after washing it really softens up. The little pieces of silver tinsel have no effect on the softness whatsoever. I can't find much fault with this yarn really. I probably could have eked this sweater out of one skein if I wouldn't have added length to the body. I didn't find any knots, however there was one loosely spun section with a slub of wool that I had cut out. When I gave the cardigan a good soak before blocking, there was some color bleeding and I had to rinse it a couple times before the water was clear. Next time I'll add some vinegar to my soak to try to keep this from happening. Overall I really liked it, and I have a big ball of Starry left (over 3/4 of a skein) to use for something else.
I like the finished style of this cardigan, though I'm not sure the fit is 100% right. I knit the smallest size in the pattern (Child's 4/6) for Camdyn and I'm lucky she was around so that I could try it on her along the way. I'm glad I didn't just go by her normal size (she generally wears a girls 6 or 6x) and follow the numbers blindly because the back of the sweater would have been way too wide. As it is, even after cutting over 3" from the back width the fit is still a little awkward and there is excess fabric across the back and at the underarms. I think in general it looks good enough, and I wasn't about to rip out my work to try to make it better, so this is as good as it gets. I can't really speak to how the larger sizes in the pattern measure up, but for children it seems like it would be hard to knit if the intended recipient wasn't on hand for frequent fittings--and even then in my case I couldn't get the fit quite right.
I made a few other minor changes along the way. I had to go up a needle size to get gauge, and I also opted to knit the sleeve ribbing on the smaller needles to bring them in a bit more. As quite a few others have done with this pattern, I knit the sleeves in the round to avoid seaming and omitted the gathered section at the middle back. I also added about 4" to the length of the skirt portion for a longer cardigan.