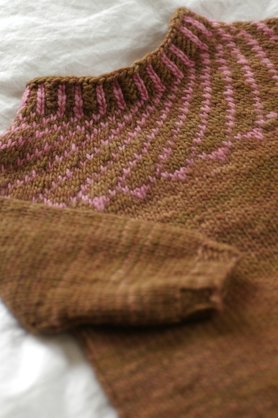 Project Specs
Pattern: Spiral Yoke Baby Sweater designed by Meg Swansen
Pattern Source: Handknitting with Meg Swansen (the baby sweater instructions are available in Vogue Knitting, Fall 2003)
Yarn: Malabrigo Merino Worsted in Dark Earth, 122g (256 yards); Malabrigo Merino Worsted in Damask Rose, 15g (32 yards)
Needles: US 8 Denise Circular Needles and Clover DPNs
Date Started: 3/9/09
Date Finished: 4/3/09
Finished Size: 6 to 9 months
See it on Ravelry!

I guess this is my first official knit sweater! I made this little Spiral Yoke pullover for my cousin's new baby girl who was just born at the end of February. I was originally thinking that this would be sized to fit ages 3 to 6 months, but it definitely grew a bit with blocking and is probably better suited for 6 to 9 months now. I don't mind at all because I'm sure her parents received more than enough newborn sized clothes. Also this way it will fit her more than just during the summer months. It is definitely a cozy sweater, perfectly soft and snugly for chilly fall evenings.
I first noticed this sweater when I came across bluegarter's Spiral Yoke on Ravelry. I was totally inspired and immediately bought Handknitting with Meg Swansen. However I soon realized that the baby sized version wasn't included in the book and was a modification published in Vogue Knitting, Fall 2003. I was determined not to let this stop me. I basically used the kid's sized instructions in the book, crosschecking the numbers I came up with using the EPS (Elizabeth's Percentage System) with numbers and measurements I gathered from studying FOs. In the end it worked out better than I had expected and barely had to frog and reknit at all! Usually I like to jump right into a pattern, but this time I did a lot of counting and working with the numbers before starting. In the end It really paid off and I'm glad I ventured outside of my comfort zone.

Despite what my start and finish dates say, this is a really quick knit and pretty simple too! I love how it is worked from the bottom up, leaving the underarms as the only parts that require seaming. I'm certain that I'll knit another one of these sweaters in the future, maybe using a yarn like Noro Silk Garden for the yoke or seeing what the traveling stitch version looks on a baby sized sweater.