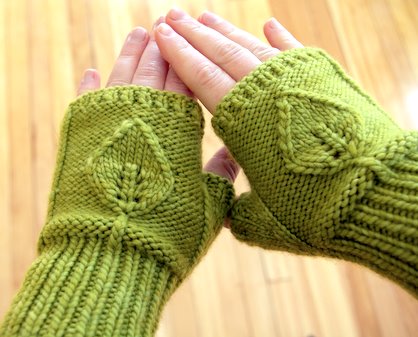 Project Specs
Pattern: Leafy Mitts
Pattern Source: Ruth Stewart's Ravelry pattern shop
Yarn: Malabrigo Merino Worsted in Lettuce, 40g (84 yards)
Needles: Clover DPNS size US 6
Date Started: 3/1/09
Date Finished: 3/2/09
Finished Size: Large
Modifications: Mirrored purl increases
See them on Ravelry!
Wee! Malabrigo March is finally here! This has to be one of the best time of the year; I mean a whole month dedicated to my favorite yarn? What could be better! I love seeing everyone's beautiful FOs in the Malabrigo Junkies group on Ravelry and challenging myself to knit as many projects as I can. These Leafy Mitts are my first FO for MM2009, and I couldn't be happier with them!

I found this pattern on Ravelry a few weeks back and knew I'd have to knit them in Malabrigo. I know I say this a lot, but this pattern is perfectly suited for Malabrigo Worsted! The finished mitts are so soft and squishy that I haven't been able to take them off since they finished drying (I'm wearing them right now as I type this up!). They will have a permanent place by my computer. I think the lettuce colorway makes them even cuter and just looking at them makes me wish for spring. Unfortunately we just have a big snow storm and spring won't be here for a few weeks, however that might mean I'll get to wear these mitts a little longer.
This pattern knits up so quickly, and I love the simple design. You could definitely knit the pair in a day if you wanted, plus they don't really need to be washed and blocked (I did to get any excess dye out of the yarn). The instructions are easy to follow and include charts for the thumb gusset and leaf portion of the pattern. I know I'll make another pair in the future because they make the perfect quick gift knit. Also the pattern seems like a great deal at 2.50 CAD (which turns out to be less than 2.00 USD at the current exchange rate).