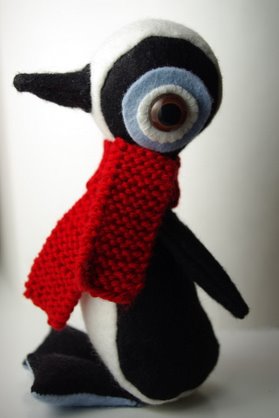 Project Specs
Pattern: Le Penguin by Maritza Soto
Pattern source: Soto Softies BigCartel Shop or Etsy Shop
Finished Size: About 6 ½" tall
Supplies: Small amount wool-blend felt in black, white, and baby blue, 15mm safety eyes, small amount of red wool yarn for scarf.
Date started: 2/12/09
Date completed: 2/13/09

I hope everyone had a great Valentine's Day weekend! For us V-Day was basically a normal day, but it gave me an excuse to sew up this little cutie for Camdyn! I purchased this pattern before Christmas with hopes to make it then, but with all the knitting going on I never got around to it. Well, my hands have basically demanded a break from extensive knitting so I thought this would be the perfect opportunity to get out the sewing machine.

If you haven't seen Maritza's work yet, you should really check it out. She makes the cutest softies—of which I have amassed quite the collection. When she released a pattern for her darling felt penguins I couldn't pass it up. I really like how the pattern is laid out, the instructions are clear, and the graphics are adorable! I would recommend it to even a novice sewer. Plus, if you don't have a sewing machine you could easily hand sew it together instead!
None of the steps are particularly hard, and the penguin comes together quickly, but I still have a new found appreciation for Maritza! Turning the small pieces right side out was definitely a bit time consuming and I can't imagine doing it for a whole bunch of penguins at once! I used about everything imaginable to turn the pieces, but I found a popsicle stick from Camdyn's craft supplies (for the majority of the work) and a large sized DPN (for the pointed tips) worked the best.

My little penguin is sewn out of wool-blend felt. Unfortunately I only had a couple colors of 100% wool felt on hand, and they weren't right for a penguin so I had to settle for a blend. It performed much better than I expected—and though it's nowhere near as soft as 100% wool it's tons better than using acrylic craft felt. I've gathered quite a few colors now by purchasing a yard here and there at my local Jo-Ann's with my 40% and 50% off coupons. The coupons make it really affordable and I've purchased blends that are anywhere from 80% to 30% wool for between five and ten dollars a yard.
I really wanted this guy to have a red scarf for Valentine's Day but I didn't have any red felt on hand. Instead I decided to quickly knit him up a squishy garter scarf from worsted weight wool. For the scarf I cast on 7 stitches with size US6 needles, and knit for 9 ½" inches. I think it looks adorable and gives him the perfect homemade touch. I thought about knitting him a little hat and some wing-tip mittens but I decided to stop myself before I went too crazy.
I'll definitely be making this pattern again. I've already thought about a few things I'd like to try next time, like enlarging the pattern slightly on my printer (to help easy the turning of the pieces) or mix a fun patterned fabric with the felt for a different look. I think there are so many fun things you could do that would make this pattern fun to make over and over again! Maritza's also has a free Batty Finger Puppet pattern that looks really fun to make too. I really can't wait to see what Maritza comes up with next!