Last year was a great year for us here at KathrynIvy. In April we launched our website and blog and it's really been a great experience. In 2007 we designed six patterns, put together four tutorials, held three contests, and posted 160 times! We've had a blast meeting lots of new knitting friends and we just want to say thanks for the support you showed us in 2007!
This year we plan on adding lots more content to our site as well as designing more free and premium patterns, so stay tuned!
Alice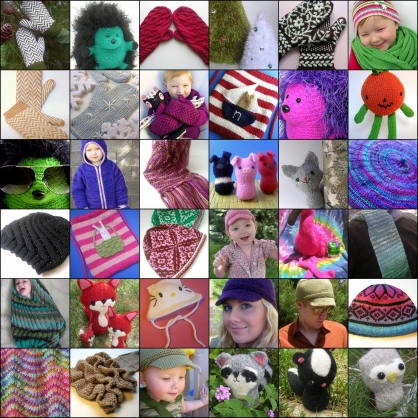 1. Mittens for Mom, 2. Zach the Hedgehog, 3. Very Cabley Mittens, 4. Kitschmas Trees, 5. Bird in Hand Mittens, 6. Camdyn's hat and clapotis, 7. Camel and White Herringbone Mittens, 8. Super Snowflake Mittens, 9. Herringbone Mittens with Poms, 10. Beary Buddy Bag, 11. Molly the Hedghog, 12. Jack-o-Spherey, 13. Zeke the Hedgehog, 14. Camdyn's Tomten Jacket, 15. My So Called Scarf, 16. The Three Little Pigs, 17. Backyard Wolf, 18. Purl Bee Beret, 19. Odessa Hat, 20. Bunny Buddy Bag, 21. Inga Hats, 22. Summer Tweed Kiddie Cadet, 23. Fiber Trends Flamingo, 24. Noro Silk Garden Striped Scarf, 25. Clapotis in Silk Garden, 26. Three Backyard Foxes, 27. Hello Kitty Top Down Bonnet, 28. Alice's Hawkeye Hat, 29. Kenny's Hawkeye Hat, 30. Fake Isle, 31. Handpainted Chevron Scarf, 32. Marc Jacobs Inspired Ruffle Scarf, 33. Kiddie Cadet, 34. Backyard Critters - Raccoon, 35. Backyard Critters - Skunk, 36. Backyard Critters - Owl
2007 was a great year for me. I don't think I disliked any of the knits I completed last year! I definitely have a preference for quick projects it seems. Toys, hats, and mittens were really big for me last year. The favorite thing I learned had to be stranded knitting. My favorite colorwork project is a toss up between my Neapolitan Inga Hat and my Bird in Hand Mittens. Both are fantastic patterns and I enjoyed every second while knitting them! I see much more stranded knitting my future.
The knit that wins the most used category hands down is Camdyn's Tomten Jacket. She has pretty much worn it every day since late Fall. The Malabrigo is still super soft. It has pilled a lot but it just shows how well loved it is. The Tomten was my first garter stitch based project, my first EZ pattern, and the first time installing a zipper on a knitted garment.
I also jumped on a few bandwagons last year, starting with the Chevron Scarf. Although the knitting really dragged on a times the end result is really worth it. Seeing how the colors in my Easter Egg Dyed yarn came together was really satisfying. I admit I still haven't worn this scarf in public yet, but with all the work that went into it from start to finish I don't think I could ever give it up. I also became one of the thousands of knitters to knit a Clapotis. It's a great pattern, and I love how it looks in Silk Garden! I enjoyed the pattern so much I had to knit a smaller version for Camdyn too.
In 2008 I hope to knit even more than I did last year. My biggest goal for this year is to make a sweater for my husband. I've never made an adult sized sweater and I'm really looking forward to it!
Grace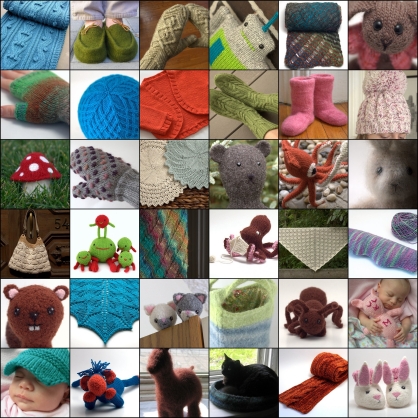 1. Forbes Forest, 2. Felted Moccasins, 3. Chevalier Mittens, 4. Robot, 5. Striped Clapotis, 6. Fuzzy Mitten Bunny, 7. Kolenya Mitts, 8. Baby Shedir, 9. Baby Shrug, 10. Log Cabin Socks, 11. Little Snugs, 12. Snowball Hat, 13. Myriads of Mushrooms, 14. Thrummed Mittens, 15. Bathtime Blossoms, 16. Terra Bear, 17. Squid-A-Licious, 18. Bunny Fun, 19. Lorraine, 20. Spherey Sprouts and Spherey, 21. Clapotis, 22. Octopus, 23. Flower Basket Shawl, 24. La Luz Eye Mask, 25. Beaver, 26. Shetland Triangle, 27. Swat Team Kitties, 28. Meema's Marsupial Tote, 29. Ant, 30. Bunny, 31. Kiddie Cadet, 32. Mr. Dangly, 33. Felted Llama, 34. Kitty Pi, 35. Vintage Velvet, 36. Bunny Booties
Man 2007 just flew by didn't it? I am so glad that Alice and I started this blog; 2007 was a great year for KathrynIvy.com, and by the looks of it, 2008 will be even better!
Last year I had a lot fun firsts: first lace, first pair of mittens, first socks, first baby item. The list seems like it could go on forever! At times it was frustrating but it was always rewarding. Thank you all for your wonderful words of encouragement.
It also seems like I made a lot of knit gifts this year. I think over half of the items I made, and all but two of my knits over the past four months have been gifted to friends and family. I am so lucky to know people who really cherish hand knits so it is a real joy to make things for them! I think that my favorite gift that I gave this year would be either the knitting octopus or Camdyn's bunny. Although I am excited to get back to knitting for myself, I'm sure that I'll end up making just as many gifts in 2008.
I have a few goals for this new year. I am going to try out some techniques that are new to me like double knitting, entrelac, and fair isle. After seeing all of Alice's beautiful creations, I'm itching to cast on in two colors! I want to get around to knitting some of those patterns that have been in my queue for way too long as well as knit all of Hansi Singh's wonderful animal patterns. I'm also going to dust off the old sewing machine and do some creating with needle and thread