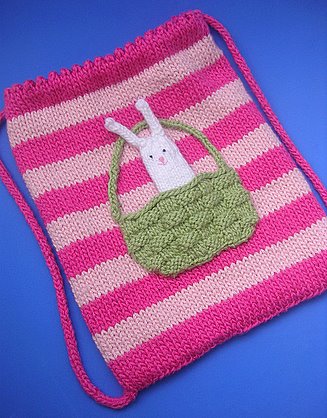 Project Specs
Pattern: Buddy Bag (bunny version) a pattern by Anny Purls
Yarn: TLC Cotton Plus in 3752 Hot Pink, 3706 Light Rose, 3001 White, and 3643 Kiwi
Needles: Addi Turbo US6 16" circular, Clover US3 DPNs
Date started: 7-28-07
Date completed: 7-31-07


Camdyn loves her new Bunny Buddy Bag. She has been calling it her "purse" and she has been wearing it around a lot. She's used the bunny finger puppet too, though I've had to rescue it a couple times since she thinks it is most fun use as a Rufus toy and he likes to nip at it! The only change I made to the original design was that I added a snap to the back of the finger puppet so that it actually attaches to the bag. I know how Camdyn runs and jumps and dances about everywhere she goes, so I could see it getting lost easily!

I am pretty much totally happy with this project. The only thing I would change about it is the quality of my finishing. Next time I'll really try harder to hide my stitches when attaching the extras to the front. I decided not to take it out and redo it this time because, well, this is one of those FOs that is really supposed to get used and roughed up. Camdyn has already thrown it around quite a bit, stretched it over her head as a hat, pulled the straps every which way, and so on—so there's really no way it would stay looking pristine anyways!
I'm also glad that I finally found a use for my TLC cotton plus. I'm still not a total fan of the yarn—it's kinda splitty, and it loses its twist easily so the strands tend to separate. I do have a lot of it around and I plan to use it again for this pattern. All the animals are so cute I will probably have to make them all eventually. I also thought a Buddy Bag (sans buddy) would be cute too done in all different colors of stripes, or even solid bag with an intarsia design on it—there really are so many possibilities!