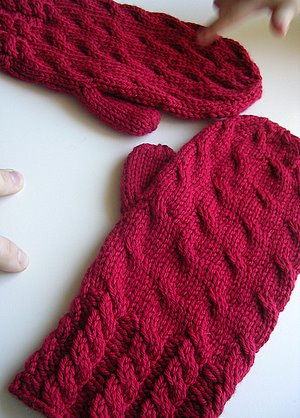 Project Specs
Pattern: Very Cabley Mittens by Kelly at Kelp Knits
Finished Measurments: 4 1/4" wide x 9 1/2" long
Yarn: Debbie Bliss Cashmerino Aran in Red (#300610), 163 yds
Needles: US7 Bamboo DPNS
Date started: 12-12-07
Date completed: 12-13-07

Well, I'm in the home stretch as far as my knitted gifts are concerned. A few days ago I finished up these cute cabled mittens for my grandma. I know I said I was going to make another pair Bird in Hand Mittens but my fingers weren't too keen on knitting worsted weight yarn at such a small gauge again just yet. I think these Cabley Mittens turned out great though, and I'm sure she'll love them no matter what!
I chose to knit these in some Debbie Bliss Cashmerino Aran from my stash. I really enjoyed working with the superchunky version when I made my Super Snowflake Mittens, and I hoped that I would like the aran version of this yarn just as much. Overall, this yarn is soft and very cushy while knitting, but after washing it loses quite a bit of the pop that it originally had.

The cables aren't as striking as they were before which is a little disappointing. Also, I found this yarn to be quite splitty while working with it. This made cabling without a cable needle a little difficult at times because it was harder to catch all the individual plies. When I was finished knitting I was surprised to see my bamboo needles had turned pink! I've had similar things happen before with other yarns, but nothing that is intended to be machine washable. I had to replace the water three times when I washed my mittens before the dye was no longer coming off the mittens. I can't see a difference in color of the finished mittens which I am glad to say, at least.
I'm also a bit curious to see how these mittens wear. They are very soft, and although they're not showing much fuzz yet, I've read that this yarn shows wear very quickly. I will have to check back in with my grandma once winter is over to see how they hold up. At this point I'm not sure if I'll buy anymore Cashmerino Aran after I use up what I have in my stash.
Even though the yarn was a little annoying at times, this pattern was very fun to knit! It really speeds by if you cable without a cable needle. This was actually my first time using this technique, but Grace had assured me many times that it was really easy. It really was, and I encourage everyone to give it a try. I will definitely be doing this again whenever I have the chance. Next time I knit cables though, I've decided I need some O-Wool after seeing this post on AnnyPurls blog. I love how the cables transform after soaking—a far cry from the floppy lifeless cables from this Cashmerino Aran! Aren't they just beautiful though? Knitting cables with O-Wool is definitely on my knitting to-do list.
Despite my yarn choice I still think these are gorgeous mittens, and I hope they will get lots of wear this winter. I can't wait to hear what Grandma thinks of them!