I finally got started on my Christmas knitting last week! I had been starting to stress about it, and well I guess that I'm still stressed because I've only got one present down and many more to go. There are just so many different things that I want to knit for my family! I hope that I schedule my time so that I can fit them all in, not to mention all the things that I want to make myself before winter comes around. Luckily I've got most of the yarn that I already need, so it is just a matter of knitting! Here's my first holiday knit (I guess second if you count the Shetland Triangle I made) of the year…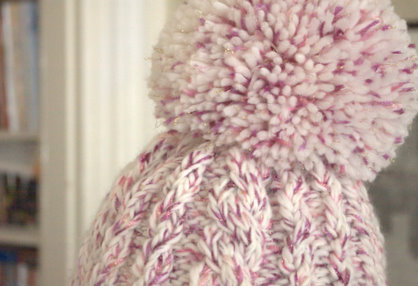 Project Specs
Pattern: Snowball Hat designed by Katie Himmelberg
Pattern Source: Interweave Knits Fall 2007
Yarn: YarnArt Dream in color #18
Needles: US 9 and 11 Denise Circulars
Date Started: 9/6/07
Date Finished: 9/9/07
Finished Dimensions: Hat fits my 21.5" head perfectly, pom-pom 5" in diameter.

Wow, this hat was a super fast knit, and I couldn't believe when I finished in one day! What a great way to kick off my mad dash of present knitting huh? It goes so quickly because you use worsted weight yarn held double throughout. I have to say that the yarn I used is a little crazy… well make that really crazy, but it totally screams my sister Diane. I definitely can't see myself wearing anything made form this yarn, but if anyone could pull it off, it would be Diane. She's totally into pink and glitz so I'm hoping she'll love it! The yarn is a wool blend so it will be warm enough for her California winters but also not overkill.

Okay a glitzy hat is a glitzy hat, but add a giant pom-pom and you've really got something going! I didn't originally mean to make the pom-pom so giant, that's just kind of how it turned out. I went to Michael's looking for a 3.5" pom-pom maker like the pattern suggests, but apparently they only carry 1" makers. So I came home last night and tried to make my own. I really had no clue what I was doing since I had only made two 1" pom-poms before using the tutorial from Bella Dia as a guide. I made two circular templates cut from a cereal box. The outer diameter of the template is 6.5" and hole in the center has a diameter of 2.25". I placed a 12" piece of yarn between the templates, then wrapped the rest of my yarn around the template, making sure not to pull tightly. Once it was all wrapped, I cut it, tied the pieces together, and ended with a 6" pom-pom!! After some work I whittled it down to 5" and fastened it to the hat.
In the end I ended up using every inch of the two balls of YarnArt Dream, 253 yards for the hat and 75 yards for the pom-pom. I'm really happy with how it turned out, and I want to make a solid colored Snowball Hat for myself sometime before it gets cold. I'll probably use Cascade 220 or Paton's. I know that the giant pom-pom probably isn't for everyone, but I like it and I am think my sister will too. I can't wait to give this to Diane, I'm hoping that she loves it!!