So you might notice something new along the left sidebar. In fact we've added two new things to our site! First we finished our adult version of the Kiddie Cadet hat. It is called Hawkeye (after our favorite character from M*A*S*H) and works great for both guys and girls! It is for sale in our Etsy shop if you are interested :). We're both really happy with how it turned out! I love how it looks on all of us, and I have been wearing mine around Boston all weekend. It turned out perfectly so all of our hard work paid off!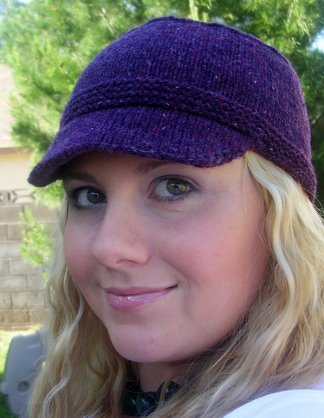 Alice made her Hawkeye from Cestari Wool 2 Ply in Blackberry. She made the medium sized version and it fits her great! I love that color on her don't you? I made my version from Cascade 220 Superwash in color #875 Stone. I added a patch of the Kathryn Ivy ivy leaf logo. It's made from a wool/acrylic blend felt in a camouflage color. Which reminds me…

The second thing we added to the site was a tutorial on how to add felt patches to your Hawkeye (or Kiddie Cadet) hat! It is a step by step tutorial with pictures that you can find in the Extras section. All yesterday Alice and I spent drawing patch templates and making them all nice on the computer (sorry thats why we didn't update). There is such a variety of templates that I am sure everyone can find something they like! We tried to include all the important shapes like an ivy leaf, owl, llama and alpaca, skull and cross bones, birds, and sooo much more! They're free to download and would look great on tons of different items, so check them out!
We'd love to hear what you think, and always appreciate your comments!