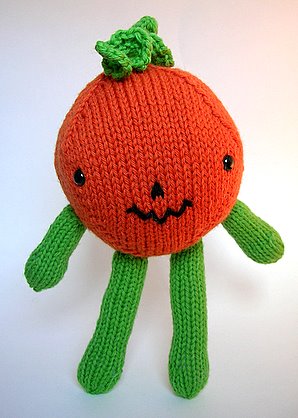 Project Specs
Pattern: Spherey
Pattern Source: Unusual Toys to Knit by Jess Hutchison
Yarn: Cascade 220 Wool in Orange (8910), Green (7814), and Black (8555)
Needles: Clover Bamboo US6 DPNs
Date started: 10-6-07
Date completed: 10-9-07

This little guy turned out to be much more of a challenge than I had expected. My biggest regret is not asking you guys for advice sooner! You really helped me decide on what to do with the nose. As you can see I went with a tiny triangle for the nose. I also tried a tiny upside down triangle but it didn't quite look as good as this one.

I'm still not totally happy with this guy. I wish I would have thought more about the eye placement. There were a couple great suggestions for felt triangle eyes (genius I tell ya, why didn't I think of that?) and closer eye placement. In the end I decided that the safety eyes would just be too hard to remove so I am just dealing with it… Camdyn knows what it is, and that's what matters most I suppose. She said, "Look mama, it's a pumpkin like for Halloween." So I guess at least when judged by a two year old, I did a good job :)
Other than the minor changes to the facial features, I only made a couple simple changes to turn this guy into a jack-o-spherey. To add the stem, I switched to green wool on Round 49 of the pattern, and knit rounds 49 and 50 as instructed. If anyone is interested, here is how I finished up the stem:
Rnds 51-54: Knit all sts.
Rnd 55: K4, ssk, k2tog, k4
Rnd 56: K3 ssk, k2tog, k3
Rnd 57: Knit all sts.
Draw stitches together.
I think it turned out pretty good and has a nice subtle curve to it which I like. I also added a curlicue, based on the instructions Crazy Aunt Purl gave for her Halloweenie Beanie. Next year for Halloween I may have to try to knit my niece Jojo an improved Jack-o-Spherey. For now, I am glad to have this guy finished up so I wont have to think about noses anymore!