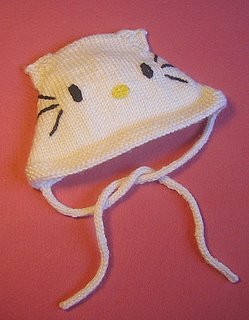 Here's my first finished baby knit for my new niece, Jojo. I had a great time knitting this pattern, and I already want to make another version, maybe a yellow Pikachu? It was fun to learn something new—the Figure 8 cast on—and the tutorial provided by Hello Yarn is very helpful and easy to understand. I chose to make the bonnet into a Hello Kitty bonnet, because my older sister loves HK. Even the nursery set she picked out for Jojo is Hello Kitty, so I think she'll like this!

Project Specs
Pattern: Top Down Bonnet w/Anime Character
Pattern Source: A free pattern from Hello Yarn
Yarn: Caron Simply Soft in White, small amounts of black and yellow simply soft
Needles: Addi Turbo size 4 16" circular and set of size 4 DPNs.
Modifications: Went up a needle size for gauge, made a Hello Kitty character bonnet.
I get to meet my new niece in a week; we're making the drive up to Northern California. I didn't expect to be able to go up this soon, but I am so glad that Kenny can manage to get a bit of time off. I am so excited! I plan to bring along the Chevron Scarf to get some work done on that. I won't be able to work on it while on the road because I'll be driving, otherwise I might have car sickness problems (sorry if that is too much info). I am hoping to get maybe a couple more baby items started and finished up before we go, lucky they are quick and fun to knit! I've found a few fun baby related links I wanted to share that I find fun and inspiring!
First, there's a great free pattern for adorable cargo baby pants from Bella Knitting.
Next, if you want something extra cuddly, Fuzzy Mitten has added more cute knitting patterns to her Etsy Shop. I especially love this little duckling.
And finally, for inspiration Staci at Very Pink is recreating a gorgeous heirloom baby blanket.
So how about you guys, what are your favorite baby patterns? Have you seen anything extra cute lately?