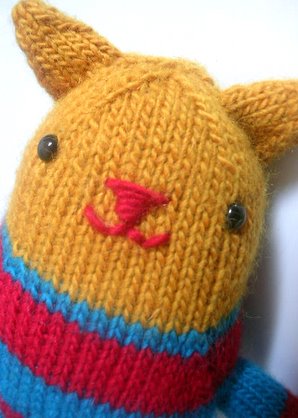 Project Specs
Pattern: Kate by Jess Hutchison
Pattern Source: Knitty.com, Winter 2005
Yarn: Brown Sheep Lamb's Pride Worsted in Sunburst Gold (32 yds), Aztec Turquoise (43 yds), and Red Hot Passion (12 yds)
Needles: US 6 Clover Bamboo DPNs
Date Started: 8/1/08
Date Finished: 8/4/08
Final Measurements: 10" tall with a 10" arm span
Extras: Two 9mm black plastic safety eyes
See Kate on Ravelry!
There's no doubt that Jess Hutchison's patterns are absolutely adorable, and it's pretty obvious that we're big fans of them here at Kathryn Ivy. So far between Grace and I we've made a bunch of Sphereys, Squarey, Henry the Bear,

Bunny, and Robot. I'm glad to finally be able to add Kate the Cat to that list.
I have literally had this pattern bookmarked since the day I learned to knit over two years ago. I really don't know why I hadn't got around to making it until now. I love Kate's rotund body and sweet smile! I think that Lamb's Pride works particularly well for this pattern too. It gives the toy the perfect amount of fuzziness, though little fibers kept tickling my nose and made me sneeze a bit while knitting. I admit, when I started in on this pattern I was going to keep it for myself, but of course after Camdyn fell asleep clutching Kate the night I finished, it officially became hers.

I only made one modification—which was totally unintentional. I ended up knitting my Kate on size US6 needles rather than US8 as called for in the pattern. For some reason I just misread the number! My kitty ended up a couple inches shorter than the original, but I don't mind that too much. I do like the fact that my tighter gauge really keeps the stuffing from showing through, which I think might have been a problem if I would have used bigger needles.
I'd definitely suggest this pattern for anyone looking for a quick and fun knit. I was able to make this pattern in just a few days of very leisurely knitting, but it could be completed much faster than that. I know I'll be making another Kate in the future—or maybe one in every color to match my real life kitties. Next time I think I'll do some extra embroidery and add a tail like this darling one . Isn't it just too cute for words?