It seems like recently Alice and I have been having problems with online yarn shops. But I have to say, Dream Weaver Yarns has restored my confidence in the ability of in online/local yarn shops to offer good service. Their service was much needed breath of fresh air. Late of April 19, I ordered some closeout Berroco Suede Deluxe in Tonto Gold to make the Crescent Hobo bag. It was shipped the next day, and just arrived today! I know I live relatively close to them (they're in New York and I am in Boston), but I didn't expect to get my yarn this fast! I also got it at a good price ($8.76/ball), at least compared to what I have seen it priced at in some other shops. I already have the plain Berroco Suede in Tonto, so I am planning on starting this bag as soon as I can! However at the moment Alice and I are working at testing the adult sized cadet hat pattern that we'll be offering. I am really pleased with the way it is looking, and hopefully we can posts some shots of it soon!
Okay, I know you might be thinking "she made another knit toy?!" Yah well, they're just so much fun to make! I made this bunny to go along with the baby present for Diane along with the booties and Kiddie Cadet hat. After I post about this, I promise I will give the knit stuffed animals a break…for a little while.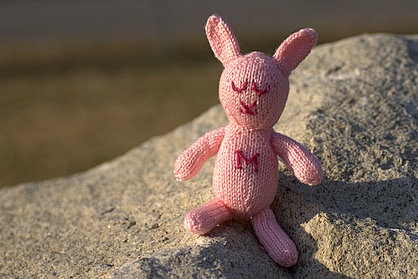 Project Specs
Pattern: Bunny
Pattern Source: Free pattern from Jess Hutchison
Yarn: Caron Simply Soft in Soft Pink #2614; scrap dark pink Cascade 220 for emboirdery.
Needles: US7 double pointed needles
Date Started: 2/16/07
Date Finished: 2/19/07
Modifications: Embroidered instead of using safety eyes.

Since I was going with a bunny theme for the baby gift to give to Marjorie, I decided I better include a little bunny toy! The instructions are straight forward, and pretty much exactly like every other Jess Hutch pattern (the head is basically a Spherey just with less increase/decrease rows, and the arms and legs are done exactly like all the patterns in the Unusual Toys to Knit book). The head and body pieces are knit separately then seamed together, but I think it would be easier just to knit them as one.

I wanted to make this toy as baby friendly as possible. I didn't want to use a natural fiber, because many of those can shed and become a choking hazard. I decided to use Caron Simply Soft because it is soft, 100% acrylic, and machine washable and dryable (although I would still recommend only spot treating this little guy). It does fuzz a bit while you work with it, but a good grooming can take care of most of that. I also decided to replace the recommended safety eyes with embroidered eyes, just because I am super paranoid about that kind of stuff. I tried to embroider the eyes in true Jess Hutch fashion by making them closed. I also added a "M" to the chest of the bunny (the best that I could) to give it personalize a little personalized touch.

To go along with the bunny booties and toy, I made the baby version of the Kiddie Cadet pattern. I used Cascade 220 Superwash in color #810 Teal. It worked out great and blocked beautifully. It was a super quick knit and could easily be done in a few hours. I tried putting it on Peanut to get him to model it for the blog, but he wasn't having any of it. I can't wait to see it on little Marjorie. She is due to be born today!