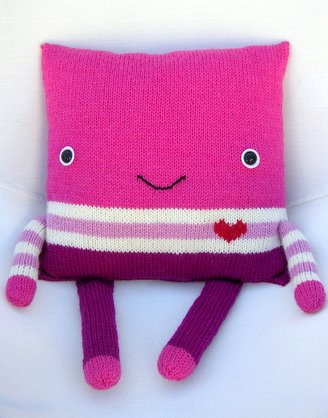 Project Specs
Pattern: Squarey
Pattern Source: Unusual Toys to Knit by Jess Hutchison
Finished Size: About 13" across body, armspan is 25"
Yarn: Patons Classic Merino Wool, 200 yds That's Pink, 50 yds Winter White, 50 yds Petal Pink, and a few yds That's Red, 150 yds Cascade 220 Wool in Magenta (#7803)
Needles: US7 Denise Needles, US7 Bamboo DPNs
Date Started: 2/10/08
Date Finished: 2/14/08
Modifications: Knit in the round, changed gauge and size
See it on Ravelry

Meet Sweets, the cute Squarey that I gave to Camdyn for Valentine's Day. I worked on her up until the very last minute and actually added the mouth and did the seaming yesterday morning! Camdyn knew I was knitting her a surprise so she was excited to receive her present. It seems like she really loves it too, and has been carrying Sweets around (and laying on it) quite a bit since I gave it to her.
I'd been wanting to knit Squarey for a long time. It's such a simple and cute idea I knew that Camdyn had to have one. This was also a great project to use up partial balls of worsted weight wools that I've had laying around for quite some time. I decided on some Project Spectrum-y colors and just went to it. I changed up the distribution of the colors and also made it look like Sweets was wearing pants and a striped shirt. I think the duplicate stitch heart adds a cute touch without being over the top.
I made quite a few modifications to Squarey along the way. The original pattern calls for a gauge of 4 stitches/inch. I knew this would produce too loose of fabric for the yarn I was using, and the pillow form would definitely show through, so I opted for a tighter gauge of 5 stitches/inch. The pattern is also written to fit a 12" pillow form. Since I only had a 13" pillow

form on hand, I ended up casting on 130 stitches, which is significantly more than the original pattern. I also cast on more stitches for the arms and legs. I knew I had to knit this project in the round. There really seems to be no reason to do two flat pieces and seam them together later. I think I'd go crazy, and I'd probably still be knitting too since my purling is drastically slower than my knitting. Once I achieved my desired length, I kitchenered the top stitches together. It was so simple and fast! If I knit Squarey again, I would do a provisional cast on to eliminate the seam at the bottom as well. I also picked up stitches for the arms, once again doing away with some more sewing.
A new technique that I had never used before knitting squarey, was traveling jogless stripes, a method I read about at TECHknitting. I can say I will never go back to doing stripes any other way. I used it on both the body and on the arms and the color changes between stripes are nearly invisible. I absolutely love how much better it looks! I suggest you check it out if you plan on doing a project with stripes any time soon.
As always, adding facial features was difficult for me. I think I had three different mouths before I settled on this little smile.

I also added some wool felt behind the safety eyes to give her a cute bright eyed look. Although it's difficult, I think it's always fun to add the faces to toys. It really gives them so much personality!
I hope everyone had a great Valentine's Day! I know that I did. Kenny gave me a super cute surprise. Meet Jackpot, our new Chihuahua. He's such cutie and so full of energy. I'm excited for Rufus to have a playmate, and we're all excited to have a cute new addition to our family!