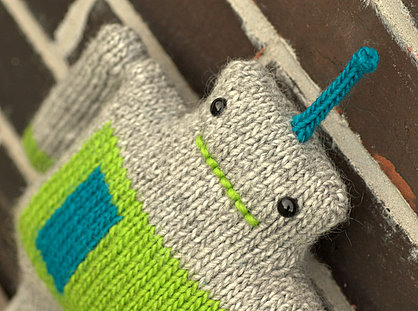 Project Specs
Pattern: Robot
Pattern Source: Unusual Toys to Knit by Jess Hutchison
Yarn: Brown Sheep Lamb's Pride Worsted in M-03 Grey Heather (70 yards), M-120 Limeade (20 yards), M-78 Aztec Turquoise (10 yards).
Needles: US8 straight needles and 6 DPNs
Date Started: 11/10/07
Date Finished: 11/24/07
Finished Dimensions: Knit body in one color instead of two, attached antenna after seaming.

I'm sure everyone and their mother has seen the knit Robot pattern by Jess Hutchison by now. After having it on my to-do list for over a year, I finally got around to making one. He calls himself Robot Robot, because he thinks he's two robots in one. This little robofriend of mine will traveling across the country to my friend for Christmas, and I hope he will receive a warm welcome.
I'm sad to say that I was kind of disappointed in the pattern. The knitting itself was not difficult, and I am sure you could easily figure out the pattern without having the instructions in front of you. One of the things I like most about Jess Hutch's is that they're knit in the round, but this robot is the exception. All piece are knit flat which requires a whole lot of seaming and ends to weave in too. I ended up spending more time seaming the pieces together than I did knitting them. The thing is, I don't really mind seaming, but it required an extreme amount of attention to keep the edges from looking sloppy. I can't say that I am 100% happy with how it turned out, but I did the best I could do. It was impossible to keep the corners square because it got so bulky and that is probably the thing I am most disappointed in.

I was really considering sewing a little robot shaped pillow to insert into the robot instead of just stuffing him. If I ever knit one of these robots for myself I will definitely do that. It would just really help keep the stuffing even and eliminate the possibility of any stuffing from showing through the stitches. Hopefully over time the stuffing won't shift too much, or else he'll have to be renamed Blob Blob. I would have liked to add some embroidered graphs to his color panels and maybe a few buttons too, but by the end I was just ready to be done with him. There are a lot of cute things you could do with this pattern. My favorite part of this guys is his antenna. To create the little bit of a knob at the top, I threaded the tail end of the yarn through the three stitches 6 or 7 times to bulk it up.
In the end, I like how he turned out, but it seems there is a lot of hype over this pattern which is basically a glorified pillow. I think I'd rather try my hand at sewing one of the Wee Wonderful Robots instead of making another one of these.