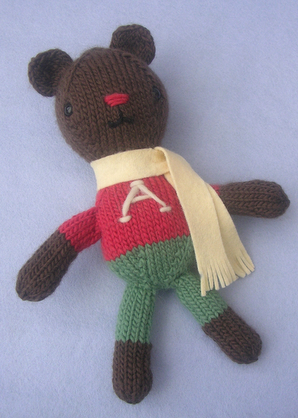 Project Specs
Pattern: Henry the Bear
Pattern Source: Unusual Toys to Knit by Jess Hutchison
Yarn: Malabrigo Merino Worsted, 18g Chestnut (39 yds), 6g each American Beauty and Mint (13 yds), small amount Natural and Black for letter and mouth.
Needles: US6 DPNs
Date Started: 3/29/08
Date Finished: 3/29/08
Finished Dimensions: 10" Tall
Extras: Two 9mm black safety eyes, wool felt for scarf
See Aloysius on Ravelry!
Ever since Camdyn found out that Butterfull wasn't for her she's been asking if I'm going to make a present for her soon. Well, I decided yesterday that I'd take a break from the mittens I was working on and make her a cute little friend. Right from the start I knew I was going to name whatever toy I made Aloysius (prounounced Al-oo-ish-us) because whenever Camdyn brings out her toys she always names one of them that. It is just the cutest thing when she says it, so I thought I would make her an funny little bear that could be her permanent Aloysius.

I chose the Henry Bear pattern because it looked so quick to knit and I wanted something that I could make in just a few hours. It really is just too cute, and I had some Malabrigo in true solid colors that I thought would be perfect. I also got to use some of the partial balls that I have had lying around. The Chestnut is leftover from my Better Bucket Hat, and the Mint from my Snowball Hat. As crazy as it is, I still have lots leftover of both! It has to be one of the greatest things about Malabrigo—the skeins are never ending! You can really get a lot of stuff accomplished with just one ball.
I really wanted this toy to be extra special. Since I was already using a luxuriously soft yarn, I decided to stuff this guy with wool roving rather than polyester fiberfill. I had read about using wool stuffing for toys at Soto Softies awhile back, and I was curious to try it out for myself. As Maritza said, there's really isn't a visual difference, but when I squeezed this little bear I could definitely tell it wasn't the same. It really does feel extra squishy and soft. I'm also really curious to see how in the long run wool stuffing behaves compared to polyfil. I'll keep you posted if I notice any changes!

I actually finished Aloysius while Camdyn was napping, and when she woke up she saw the completed bear on my desk and exclaimed, "It's finished!" She was so excited, and instantly ran over to me, gave me a big hug and said thank you. The look on her face was the cutest thing ever, and it just reminds me why I love knitting for Camdyn so much!