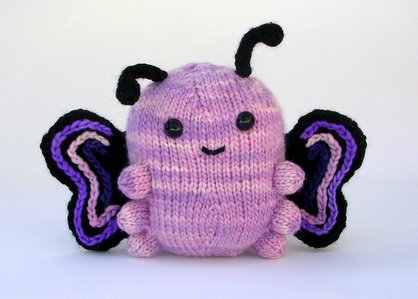 Project Specs
Pattern: Butterfull by Anna Hrachovec
Pattern Source: Mochimochi Land
Yarn: Malabrigo Merino Worsted, 30g Orchid (65 yds) and 16g Black (35 yds), small amounts in Jacinto and Purple Mystery
Needles: US 6 Clover Bamboo DPNs
Finished Size: 5 ½" tall with a 9" wingspan
Date started: 3-22-08
Date completed: 3-24-08
Modifications: Picked up stitches for the legs, left off sweatband, added a mouth, embroidered wings rather than using duplicate stitch.
Extras: Two 12mm black safety eyes
See Clover on Ravelry!
I would like to introduce you to the charmingly chubby butterfly, Clover. She is so happy that Spring has arrived and she can spend all her time outdoors soaking up the sun. Clover's not at all worried about her weight—there's just more of her to love!
Much to Camdyn's dismay, this sweet little creature isn't for her. I'm actually sending it off to my niece Jojo, though I'm sure that I'll have to make Camdyn one of her own soon. She kept asking over and over if her butterfly was finished, and I kept having to explain that it was a gift for her cousin. For some reason she can't seem to remember all the toys I have made her, just that this one is being given away!

This butterfly is so soft and cuddly and perfect for a child's toy. I love its cute round body, and even I just want to squish it over and over! The Malabrigo makes it extra huggable, so I hope Jojo will love her new toy. I decided to make a couple changes to the pattern just to make it more girly. Instead of doing the duplicate stitch circles on the wings, I embroidered some colorful chains in different colors of purple. I think it turned out really cute and fun, and I really want to make some more butterflies to decorate!
Overall the pattern was really easy to knit and understand. I ended up picking up stitches for the legs just to eliminate a little bit of seaming. I originally had planned to pick up stitches for the wings as well, but I decided against that. I am sure glad I did because it made embellishing the wings a lot easier. The only thing that threw me off in the pattern is where the finished size is listed it says "after felting and stuffing." When I bought the pattern I didn't think it was fulled at all. After reading through the pattern a couple of times and not seeing any felting instructions I realized that this was probably just a typo.
This butterfly is one of my final Malabrigo March projects. Hopefully I can squeeze a couple more in before the month is over though!