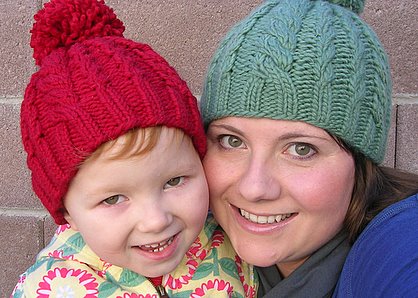 Project Specs
Pattern: Snowball Hat designed by Katie Himmelberg
Pattern Source: Interweave Knits Fall 2007
Yarn: Malabrigo Merino Worsted in Mint (#506), about 1 ¼ skeins, and Cascade 109 in Red (#9404), 1 skein
Needles: US9 and 11 Denise Circulars, US8 and 10.5 for smaller hat
Date Started: 1/21/08
Date Finished: 1/23/08
Finished Dimensions: Original pattern fits my 22" head, smaller sized fits Camdyn's 19" head
See them on Ravelry
So far January has been a productive month for my knitting. I am glad to say I have two more FOs to show off! This is very exciting for me since last January I didn't knit a single thing! I've set a little goal for myself to finish at least five things a month in 2008, and I'm definitely on track so far.
It certainly helps that these Snowball Hats knit up so fast! Each of the hats took an evening to knit up. The knitting really flies by on such large needles, and cabling without a cable needle speeds up the process as well. First I made a hat for myself using Malabrigo Merino and when I was finished I decided that Camdyn needed a hat too! I chose some red Cascade 109 Bulky from my stash and used a single-strand rather than working with two strands of worsted weight as the pattern calls for. I also worked the hat on a size smaller needles and it turned out perfect for her little toddler head. The cable pattern is also pretty stretchy, so I imagine it will fit her for quite some time.

The only other change I made to the pattern is making the ribbing and chart match. It's an easy change but it does catch you off guard a bit. The hat in the magazine is shown with this way as well, so if you work the pattern as directed it won't quite look like the one in the pictures. To make the ribbing match up with the chart and the decreases, work *P1, K2, P1* to end of round instead of *K2, P2* for eight rounds. Then work the chart and decreases as in the pattern. The cables will now flow perfectly from the ribbing.
One of the hardest parts of making these hats was trying to get the pompoms looking right! I used the same template (a 4" circle with a 1.5" center hole) for both poms. Camdyn's pompom is quite a bit smaller because I only used the remaining yarn in the skein—about 20 yards. I used about 75 yards of Malabrigo for the pompom for my hat. After trimming it up a bit I ended up with a nice dense pom with a diameter of about 3 ¾". It's not nearly as large as the pom on the Snowball Hat Grace made—that is one serious pompom—but I think it's plenty big for my taste.
I could see myself making this pattern again, especially since it really flies by. I'm not sure how long the big pompom trend will last, but it's kind of fun for now. This hat would make a great last minute gift or is the perfect pattern to whip up one morning when you've got a cold head!