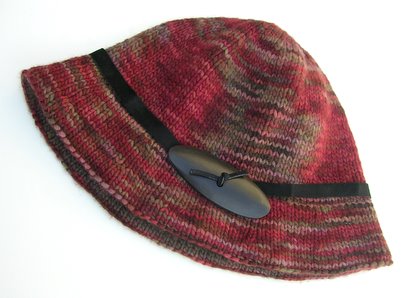 Project Specs
Pattern: A Better Bucket (PDF)
Pattern Source: Make One Yarn Studio
Yarn: Malabrigo Merino Worsted in Stonechat (130 yds) and Chestnut (55 yds)
Needles: US 8 Denise Needles and bamboo DPNs
Size Completed: To fit 22" head circumference
Date started: 3-1-08
Date completed: 3-2-08
Modifications: Worked underside of brim in a contrast color
Extras: JHB wooden button #1594, 2/3 yd velvet suede trim, 6" suede lace
See it on Ravelry
Happy Malabrigo March! This hat marks the first of many projects I have planned to knit out of Malabrigo this month. I think I'm off to a good start. This pattern is quick, fun, and super cute.

There are so many things I love about this hat, though I have to admit I didn't feel that way right off the bat. When it came off the needles, I was really hating the pooling that happened on the body of the hat. It was the first thing my eye was drawn to, and I couldn't even focus on the cute hat that I'd just finished. I figured the only way to detract for the weird pooling, was add some more stuff to it. I originally had planned to leave the hat very simple, but I think that the embellishments add to the style. I purchased the suede lace, velvet suede trim, and button all at my local Jo-Ann store.
I always love adding that little extra something to my knits, and this time it was working the underside of the brim in a different color. It's not really visible when wearing the hat, but I love knowing it's there!

I chose one of the Malabrigo Merino True Solids that complimented but wouldn't take away from the gorgeous colors in Stonechat. I worked the pattern as directed, but cast on in the contrast color and worked until one row before the turning row for the brim. Then I changed to the main color and worked the rest of the pattern. I was a little worried at first that bits of the CC would show through when attaching the underside of the brim to the rest of the hat but it doesn't at all! I am dying to knit this hat again but with a really fun color underneath, like bright pink or orange (maybe as a scaled down Camdyn version? Hmmm...). There are so many great Malabrigo colors I'd love to pair together!
If you're a Ravelry member you should check out all the Knitalongs that are happening during Malabrigo March. I knit this hat as part of the Better Bucket KAL put on by JulieFrick, who has also already finished her Bucket Hat!