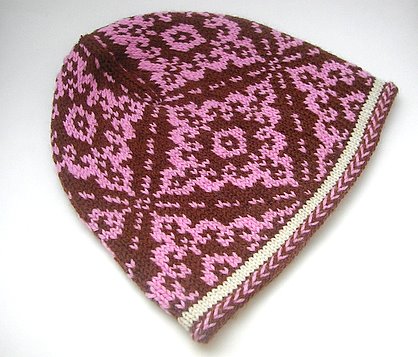 Project Specs
Pattern: Inga Hat from Ewenique Fiber
Yarn: Knitpicks Merino Style in 23462 Cinnamon (45g), 23449 Petal (31g), and 23444 Vanilla (Very little)
Needles: Addi Turbo size US3 16" circular, Denise size US5 17" circular
Date started: 7-21-07
Date completed: 7-25-07

This one's definitely a winner—I love the finished product, the yarn, and I also learned a great deal along the way. The biggest thing is that I have a better understanding of yarn dominance. I doubt I was perfect in maintaining pink as my dominant color the whole way through, but I can see a significant difference in how vibrant the pattern is this time around. I think it will be an invaluable thing to know as I continue to try out other stranded knitting patterns!

I didn't have as many tension problems as I did with my first fair isle , though after the switch to DPNs I had a much harder time controlling it. Does anyone have any tips on keeping floats even at change between needles? It seemed like sometimes I'd pull them way too tight, and then other times I overcompensated and ended up with some really loose floats up near the top of the hat. Luckily most of the puckering came out during blocking, so from the right side of the hat things look pretty normal, and when worn it shouldn't be noticeable at all.
Now, I said I might give it as a gift or keep it for myself… that's still up in the air. I really do love it a lot! Sin City Kitty made a good point in the comments a couple of days ago, asking when will I even get a chance to wear this hat in Las Vegas? Well, there are a handful of cold (chilly) days here, and doesn't a girl deserve a stylish hat? ;) Either way I am sure I'll be knitting this pattern again, I just keep thinking of color combos—like brown, white, and turquoise—that would look great on this hat!
I'm really beginning to love knitting fair isle, and I already plan to knit a few other projects. I've got the yarn for a Red Light Special hat, Anemoi Mittens, and Corazon Mittens already so maybe I'll do one of those next? I also love this Neutral Colored Nordic Lights capelet by Camblog, so that is definitely on my to-do list as well!