Since I have nothing new to show you at the moment (some newly dyed yarn is drying, and my scarf was put on hold while taxes were being done), I decided to show off something I made some time ago. I hope you like it as much as I do!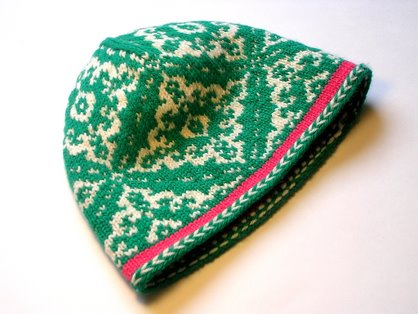 Project Specs
Pattern:
Inga Hat
Pattern Source:
A free pattern from
Ewenique Fiber
Yarn:
KnitPicks Merino Style in Mint (23445) , Vanilla (23444), and Rhubarb (23443)
Needles:
Addi Turbo size 3 16" circular, Denise size 5 17" circular
Date Started:
2/1/07
Date Finished:
2/3/07
One of my knitting resolutions this year was to attempt color work, so a couple of months ago I decided to cast on for this cute Fair Isle hat. At first it really came together slowly for me. I really thought that it was looking nothing like it was intended, but thank goodness after the first 15 rows or so I began to see the pattern. After that it was so much fun seeing the design grow I really didn't want to set it down.
As you can see my tension is a bit—okay, a lot—off. I didn't do a gauge swatch before beginning (tsk, tsk, I know), but I figured if it didn't work I could give it to Camdyn. As it turns out my gauge was off by about one stitch per inch. I definitely pulled too tight when I changed colors, and you can tell by the puckering in the fabric. I tried it on right off the needles, and it is a little tight, but does stretch to fit. I am hoping a stern blocking will straighten things out some. Since it's wool, I am pretty sure with wear it will be a perfect fit—even though I am not sure how much I'll really get to wear it here!
Overall, I'm quite pleased with myself. I like the color combination, the yarn, and the pattern, so even if it won't get tons of wear I'm considering this a big success. The pattern was nice and clear, and I'd knit it again for sure, but probably as a gift for someone who might get to wear and enjoy it more than I can. This was a super affordable project (the yarn cost less than $7.50), and I have almost a full skein of Rhubarb, almost half of a skein of Vanilla, and a small amount of Mint that I can use for another project.