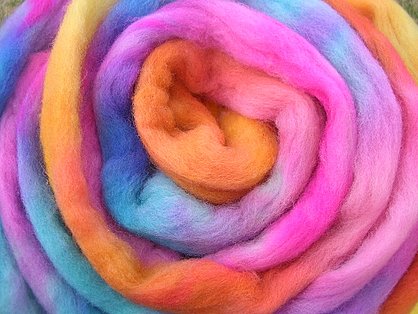 Since I've been so busy with my MIL while she's been visiting, I haven't had a chance to do much of anything crafty related this past week. Well, after dropping her off at the airport I decided that if I was going to get any fiber dyed before we head off to Boston tomorrow that today was the day!
I used the same methods as I did on the yarn in our dyeing tutorial . The only change I made was adding a couple of teaspoons of Synthrapol (that I ordered from Paradise Fibers awhile back) to the soak before dyeing. Grace said this is what they used when she took a dyeing class from Mind's Eye Yarns so I figured it was worth the investment since I plan on doing lots more dyeing in the future. I really enjoy dyeing. It's so fun to see how everything turns out in the end and each time your fiber or yarns turns out differently, which keeps it exciting!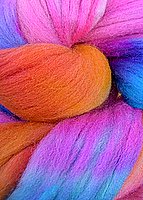 When you take the fiber out of its final rinse it really looks lifeless, but when everything is dry it is amazing how much bounce comes back to the wool. The colors look a bit lighter and you can really see the variations in shades much better. I have to say I really thought I had screwed up this whole thing and ruined my beautiful new roving when I first hung it out to dry but now I am very pleased. This fiber is the first one to dry, and I have high hopes for the other two colorways I dyed today.
I only did three 4 oz. sections of roving to give it a try. The one you see here is the "Bargain Blend" from Paradise Fibers. It comes out to $12/lb if you order a full pound, and there used to be free shipping on orders over $75 but now it looks like it's changed to orders of $100 or more. I also did four more ounces of the Bargain Blend, and 4 ounces of Brown Sheep Superwash . Hopefully I'll be able to show you how these turned out tomorrow before we head out to Boston!
I am still amazed by the vibrancy of the colors produced by Easter egg dyes! This method also seems to work really well with setting the color into the fiber. I have never had a problem with any color loss during rinsing with this method on yarn or fiber. I still hope to try out fiber reactive dyes because of the greater range of colors you can achieve, but for now since I am still new to fiber dyeing I am happy that there is a cheap and non-toxic alternative.
For those of you who live in the Boston area, I just talked to Grace and she said she just bought 8 boxes of Easter egg dye today at the Cambridge/MIT Star Market on Green Street for 25 cents each. She said there were lots left, so if you are interested in trying this method out I suggest you head on over there! I haven't seen any Easter egg kits still available in Las Vegas, but this gives me hope that people may still be able to find some around at their local stores so they can join in the fun too. If anyone has seen any in their area, drop a note in the comments!