Last week I finally got around to sending out my gifts to my sister Diane and my new niece Jojo. She was born in April and is now over a month old. I just got back some pictures of her modeling the gifts I knit for her so I thought I should show them off!
I sent her the baby sized version of our Kiddie Cadet hat. I think it looks so cute on her! Looks like the hat got a little bent up in the mail but once it is washed it will regain its shape. I made it from Cascade 220 Superwash in Teal. Isn't this just adorable?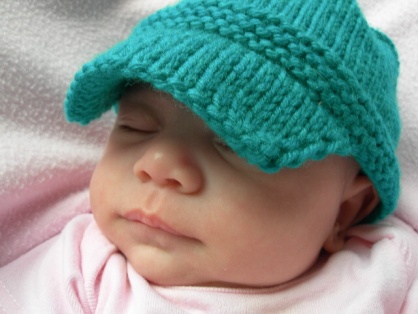 Here is Jojo hugging her new bunny toy. It's 100% baby safe because I embroidered the eyes and used Caron Simply Soft so it can be washed if necessary. Looks like she really likes it!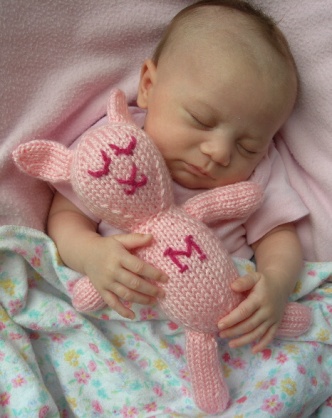 I also sent her a pair of felted Bunny Baby Booties, but they are too big for her at the moment. I made the 6-9 months size so they would fit her in the winter when it is cold out. I will post a picture of her in them then, so check back in about, oh maybe 5 months?