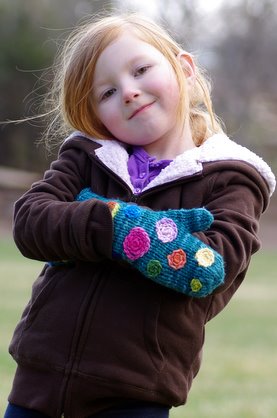 Project Specs
Pattern: Super Mittens by Margrit Lohrer
Pattern Source: Weekend Knitting by Melanie Falick
Size Completed: Smallest
Yarn: 48g (50 yds) Malabrigo Merino Chunky in Emerald and small amount in Lettuce, small amounts of various colors of Malabrigo Merino Worsted for the embroidery
Needles: US 10.5 Clover Bamboo DPNs
Date Started: Sometime in 2008
Date Finished: 2/20/10
See them on Ravelry!

Time to check another UFO off the list! These mittens were relatively easy to finish up. I only had about half a mitten left to do, and on such large needles it was a breeze. I don't know why I put it off for so long! It certainly wasn't a problem with the pattern (I knit it once before this and loved it) or the yarn (Malabrigo Chunky is a dream to knit with). I just have a terrible problem finishing second mittens in a timely fashion!

After finishing the knitting I decided the mittens looked pretty plain and figured I'd try some embroidery... well let's just say I still need some practice in that area! I do like all the colors and the dot motif (especially for a child's mitten), but I'm definitely not the most prolific embroiderer. After I finished about five polka dots I realized it was going to take me forever and I kind of rushed through the rest, so they're a little rough around the edges. I hope that adds to the handmade charm rather than making them look too sloppy.

The most important thing in the end is that Camdyn loves them! Although Cam has modeled many mittens for me in pictures, I've never actually made her a pair all her own. Now she's very happy to have some soft, cozy, and colorful mittens to keep her little hands warm.