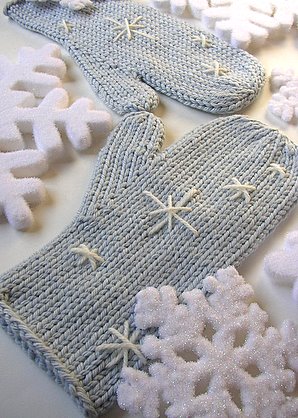 Project Specs
Pattern: Super Mittens by Margrit Lohrer
Pattern Source: Weekend Knitting by Melanie Falick
Size Completed: A mix between the Woman's L/Man's S and Man's M/L
Yarn: Debbie Bliss Cashmerino Superchunky, color 16006 Lt. Blue, about 60 yards for each mitten. Small amount of Patons Classic Wool in winter white for embroidery.
Needles: Size US10.5 Bamboo DPNs
Date started: 11-15-07
Date completed: Finished knitting on 11-16-07 added embroidery 11-21-07
Modifications: Used CO number from Man's L but worked to the measurements for the Woman's L. Only picked up 1 stitch before working thumb.

Well my second pair of mittens is now finished! These mittens are definitely super in every way—super easy, super soft, super cozy… I could keep going forever. I enjoyed this pattern, and the knitting zooms along. These mittens could really be knitted up in an evening. It literally took longer for my mittens to dry after blocking than it did actually knitting them!
I only made a few minor changes to the pattern. I used the cast on number given for the Man's L size mitten because I really wanted a comfy loose fit. I was able to try the mitten on while I was knitting it to get the right length dimensions, which ended up almost right on with the dimensions of the Woman's L size in the book. First I knitted the thumb according to the directions for the Woman's L, but it ended up way too huge. I reknit the thumb only picking up one stitch instead of the suggested three and it worked out really well.

So far I am really happy with my yarn choice for these mittens. The Debbie Bliss Cashmerino Superchunky is SO unbelievably soft. I love the look of the stitch definition in the finished mittens, and it was a real joy to knit with. I've heard this yarn pills like crazy. Though I haven't seen any pilling yet, there is some fuzziness right around the cuff already. Right now I'm giving this yarn a big thumbs up, but I'll have to see how these mittens hold up after a few wears.
I know it seems kind of crazy that I am on this mitten knitting kick and I live in Las Vegas. I know it is hard to believe, but there are actually times when it gets cold enough to wear mittens! Over the next few months we'll have temperatures that drop into the 30s at times—these desert winter nights definitely can get chilly. I've lived in cold weather for many years, and it really isn't my cup of tea. I'm not a winter worshipper of any kind. There were days when I was in college in Boston that I would dread leaving my dorm room because it was so miserable outside. My last winter in Boston was so bad I told myself I'd never go through a winter like that again if I had the choice. Now that I'm in Las Vegas I can actually go outside and enjoy the winter and enjoy wearing my handknits at the same time, a win-win situation for sure!
I also wanted to say to everyone, Happy (early) Thanksgiving! Have a safe and fun holiday weekend.