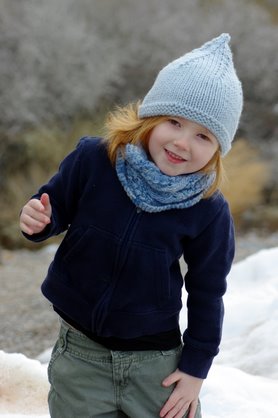 Project Specs
Pattern: Gnomey Child's Hat designed by Adrian Bizilia
Pattern Source: Available as a free Ravelry download from Adrian's Ravelry Shop
Yarn: Debbie Bliss Cashmerino Superchunky color #16006 Lt. Blue
Needles: US 11 Clover Bamboo DPNs
Date Started and Finished: Way too long ago to remember, sometime in 2007
Modifications: Knitted on larger needles and a bigger gauge. Has grown with Cam over the years.
See it on Ravelry!

Sorry for the bit of a break. At the end of last month we were lucky enough to have all our family together for a couple weeks here in Las Vegas and we had a great time. One of the things we did was head out to Red Rock Canyon National Preserve for hiking and exploration, and were surprised to see lots of snow up there--and only ten miles from our house. Before the trip I pulled out a very old FO (along with the Prickle Cowl Grace gave to Camdyn). This little hat was made so long ago I don't really remember much about it, but it's grown with Camdyn for a couple years and is totally adorable!

The original pattern makes an infant sized hat and I upsized it for Camdyn by knitting it at a larger gauge with larger needles. The pattern just flies by and would make a great last minute gift for a baby shower or any little one in your life. I left off the pompom ear flaps in the original pattern; I've seen many of these hats made and they look darling with or without them!

I used Debbie Bliss Cashmerino Superchunky (which I also used for my Super Mittens) and it has held up very well over the past couple of years. There is some pilling, but it's still so soft! Admittedly, this hat hasn't been worn tons, but when it is it's thrown all over the place so I'm pretty impressed with the minimal amount of wear. I'm pretty sure this hat will stretch to fit Camdyn another year!