Before I get into everything else I wanted to let everyone know that Alice's Clover the Butterfull has made it to the final round of Mochimochi Land's photo contest. Go check it out and vote for a winner if you haven't already! :)
On Thursday Alice and I decided on the spur of the moment we'd join in on the Ravelympic fun! We both joined Team Junkie (for all of those Malabrigo addicts… you know who you are) and are competing is several of the events. We also gave ourselves an extra special goal – knit 10 things before the 2008 Olympic Games in Beijing are up! It's like our own little knit decathlon. It will be a challenge (and my fingers are already sore), but we'll try our hardest! Here's what I plan to make in no specific order
1. Bird in Hand Mittens
2. Crofters Cowl
3. Koolhaas
4. Butterfull
5. Odd Fellow
6. Druid Mittens
7. Gossamer Stars Scarf
8. Yellow Harvest Mittens
9. Prickle
10. Elf Cap
Most of mine are going to be Christmas knits which will hopefully motivate to work even harder. I think that Alice has even more on her plate! This is what she plans on knitting
1. Thrummed Mittens
2. Vintage Velvet
3. February Baby Sweater
4. Butterfly Hat
5. Happy Frog
6. Hurry Up Spring Armwarmers
7. Mitered Mittens
8. Ellensburg Shawl
9. a cowl (hasn't decided on a pattern yet)
10. Casey's Coat
I think we've got just about everything covered, except for socks I guess, but don't be surprised if one or two of these projects change during the games. Now onto my first officially Olympic FO!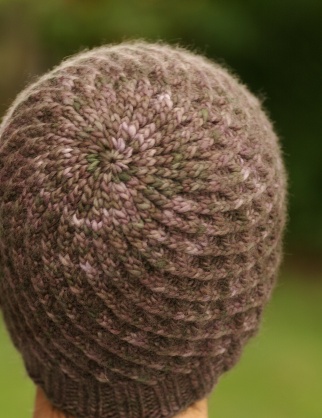 Project Specs
Pattern: Koolhaas desiged by Jared Flood
Pattern Source: Interweave Knits, Holiday 2007
Yarn: Malabrigo Merino Worsted in Black Forest, just over ½ skein (120 yards)
Needles: US 6 and 7 Denise Circular Needles and US 7 DPNS
Date Started: 8/9/08 @ 10:18 AM
Date Finished: 8/10/08 @ 2:54 AM
Size: Women's
See it on Ravelry
Koolhaas is one of those patterns I could knit time and time again. It's simple, fun, and a relatively quick knit for something that involves cables. Admittedly it is a little hard on the hands, especially with Malabrigo since it tends to be a bit splitty when knitting without a cable needle, but I really wouldn't want to use any other yarn for this pattern. This is the second Koolhaas I've knit, and I know there will be more to come!

Originally this hat was supposed to be a Christmas gift for my brother in law, Kenny. I specifically ordered the color for him too, thinking it was mostly gray with a little bit of green, something masculine. However once I started knitting it began to look so pink! I love the colorway and all, but it just wasn't what I was expecting and it definitely didn't feel the slightest bit manly. Luckily I've already decided to give this to a friend I've had since elementary school instead. I still plan on knitting a Koolhaas for Kenny, as well as an Architect Scarf to match, just as soon as I find the perfectly manly Malabrigo colorway.
To go along with this hat, I'm working on a pair of Druid mittens in dark green. I started the first mitten Sunday afternoon at 4 PM and boy are they use time consuming! I've finished everything but the thumb on one mitten, but I've been pretty much knitting nonstop since casting on. If I don't finish all of my Ravelympic projects, I have a feeling it will be because of these mittens. They're so much more detailed than I had expected.