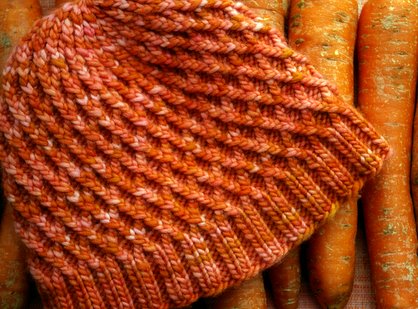 Project Specs
Pattern: Koolhaas desiged by Jared Flood
Pattern Source: Interweave Knits, Holiday 2007
Yarn: Malabrigo Merino Worsted in Glazed Carrot, just over ½ skein (121 yards)
Needles: US 6 and 7 Denise Circular Needles and US 7 DPNS
Date Started: 1/21/08
Date Finished: 1/22/08
Size: Women's
See it on Ravelry
It has been tough for me to get out of my Christmas knitting mode. I am just not used to creating knits for myself, and lately it's been taking me forever to choose which project to knit next. Usually when I am stumped I turn to two places for inspiration. First I turn to Alice. I always trust her judgment, and we like a lot of the same design aesthetics and colors. Usually when she knits something I am itching to cast on too, so when she started knitting a Malabrigo stocking cap I knew I needed to knit one myself. The second place I turn to for inspiration is Flickr. I love browsing my contacts photos since they never cease to create, design, and of course inspire.

After a bit of looking, I finally decided to make a Koolhaas Hat, and knew immediately that I had the perfect yarn in my stash. I'd never actually worked with Malabrigo Merino Worsted before (can you believe it?!). It seems that this yarn really lends itself to the pattern well. The subtle color changes don't detract from the cable pattern and once you've finished, you're left with a soft and warm hat. The Glazed Carrot coloway is absolutely gorgeous. The shades range from dark to light orange with little bits of pink mixed in. It is seriously one of my favorite colorways of all time! I couldn't believe how much yarn I had left after knitting this hat. I used a tad over half of the skein so I should have enough to make a baby sized Koolhaas or possibly even a matching pair of Maine Morning Mitts.

The pattern was easy to knit and I was surprised at how quickly it went! The cable pattern is really easy to memorize and it doesn't use any difficult techniques. Some of the notations are a little funky and twisting all of the knit stitches did take a little getting used to, but this hat really is a weekend project. The only thing I'd do differently If I were to knit another one of these, is to make the men's size. The women's size is a tad short, but then again, I do kind of have a pin head.
I don't get to use the color orange nearly as much as I'd like, so I thought I'd put together a Gathering of Orange to celebrate one of my most favorite colors!