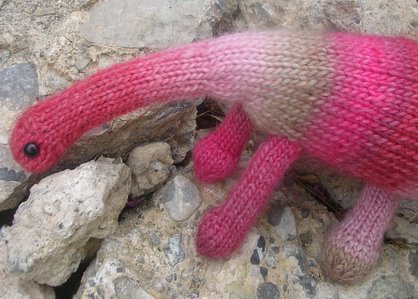 Project Specs
Pattern: Prehistoric Pals (Brachiosaurus) designed by Chris de Longpre
Pattern Source: Knitting At Knoon Designs
Yarn: Patons Soy Wool Stripes in Natural Geranium, less than one skein (91 yards)
Needles: US 6 Clover Bamboo DPNs
Date Started: 4/29/08
Date Finished: 4/30/08
Finished Dimensions: 18" from head to tip of tail
Modifications: Used plastic safety eyes instead embroidered eyes, omitted nostrils on top of head, knit tail in the round instead of flat.
See it on Ravelry
Camdyn has been on a real dinosaur kick. She loves to play with her plastic dino figurines and has been watching "The Flinstones" lots lately. I was searching for a quick project and decided it was time to add a knitted dinosaur to her collection.

The pattern is well written and really knits up quickly. Like Grace did on her T-Rex, I chose to use safety eyes rather than try my hand at embroidering them. I also knitted the tail in the round as well. Normally I would have picked up stitches for the arms and the legs, but I wanted to make sure I had the proper placement so instead I used fake grafting to attach them. Grace has used this technique many times with great results, but this is the first time I've used this technique. I have to say it works great! It takes a little more time than just using a whip stitch, but it is much more visually pleasing.
Overall I think this yarn worked well for this project. I still can't quite decide if I quite like knitting with this yarn though. It has such a unique feel to it—not soft but not scratchy, and super fuzzy. I kept having to pick little fuzz balls off from the yarn that would gather behind my pinky as I was keeping my tension.

I've used this yarn once before for felting and I think personally I like it better in that application. I must say I have seen some really gorgeous knits that aren't felted which makes me think maybe I should give this yarn another chance. I do admit the price is right when you compare it to other self-striping yarns and you can even purchase it up to 50% off with coupons from Jo-Ann's or Michael's which makes it a steal. I'm not exactly sure how practical it is for use in a toy, especially if your child still likes to put things in their mouths… with all that fuzz it would be a disaster!
I made the mistake of letting Camdyn see the front page of the pattern and she has now told me that her new dino also needs a Triceratops friend. I might have to knit that one up eventually!

I also wanted to say thanks for all the nice comments on our new pattern! It's been so gorgeous outside here that I haven't had too much computer time (Note to self: I need a laptop!) and I was happy to see a few really cute finished Summerlins already. Now that I've had a little mini-break from knitting, blogging, and the computer I'm ready to get back into the swing of things! Up next—I'm going to get a start on my Christmas knitting!