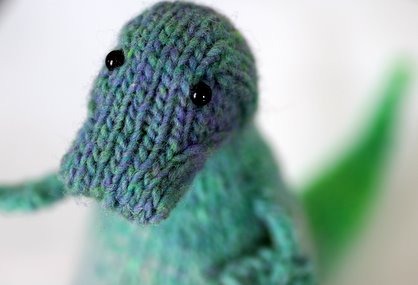 Project Specs
Pattern: Prehistoric Pals (T-Rex) designed by Chris de Longpre
Pattern Source: Knitting At Knoon Designs
Yarn: Noro Kureyon #33, less than one skein (70 yards)
Needles: US 6 DPNs
Date Started: 1/19/08
Date Finished: 1/21/08
Finished Dimensions: 6.5" seated
Modifications: Used plastic safety eyes instead of French knots for eyes, did not embroider teeth, knit tail in the round instead of flat.
See T-bone on Ravelry

Everybody this is T-bone. He's the newest addition to my ever growing collection of knit toys that is not-so-slowly taking over my apartment! I don't know if many of you have seen this pattern before, but if you or someone you know is into dinosaurs, it's definitely worth checking out. It includes instructions on how to make four different types of dinos, a Stegosaurus, Triceratops, Brachiosaurus, and Tyrannosaurus rex. So far I have only tried the T-Rex pattern (say hi T-Bone!), but I think eventually I'll make every one of them.
The pattern was easy to follow, and I really like how the pieces were knit in the round. Actually for some reason it says to knit the tail flat, but it went ahead and knit it in the round too. The top of the head is shaped in the same way as the heel of a sock, and although it may feel a little clumsy on your needles at times, the instructions are really pretty simple. There is a little seaming involved to attach the appendages to the body, but no more than your typical Jess Hutch toy requires.

I changed a few things for T-bone's face. First, instead of making French knots for eyes, I used 6 mm black safety eyes. Second, I decided to leave off the embroidered teeth. I actually tried adding the teeth several times in a few different weights of yarn, but I couldn't never get them to look quite right. Eventually his little mouthless face grew on me and I am happy that I left them off! The only thing I might do different next time is to stuff his snout a bit more. Right now it is kind of flat and he almost looks like a duck-billed dinosaur instead of a t-rex.