It has been a crazy few days. One Tuesday Si and I flew out to visit Alice and her family in Vegas. We're spending Christmas here, and the rest of our family will be joining us shortly. When I was packing I had to triple check to make sure that I had all of my knit gifts, and at the moment it doesn't look like I forgot anything! Yay! It has been so fun to visit with my sister since I haven't seen her for six months.

In the spirit of the season we have decided to have a contest to say thank you to all of our readers. One lucky person will win a fully loaded Easter egg yarn dyeing kit. With this kit you'll be able to create your own hand dyed Chevron Scarf like the one Alice made, a hand painted lace shawl, or like a thousand other things using our Easter Egg Yarn Dyeing Tutorial! Not only can you dye yarn, but you'll be able to create gorgeous, colorful rovings like the ones here. Here's what is included in the kit…
1 skein Cascade 220 in #8505 (white)
1 skein Cascade 220 in #8010 (off white)
1 skein fingering weight Knit Picks Bare, 100% Merino Wool (440 yards)
1 skein fingering weight Knit Picks Bare, 75% Superwash Wool/25%Nylon (462 yards)
5 oz. Brown Sheep Co. Wool/Mohair blend roving
4 oz. Brown Sheep Co. Superwash Wool roving
4 oz. Columbia/Dorset blend roving
1 Easter egg dye box and four extra dye packets
1 small bottle of Kookaburra Wool Wash
4 dye squirt bottles
5 dye mixing cups
1 package of foam brushes
1 small funnel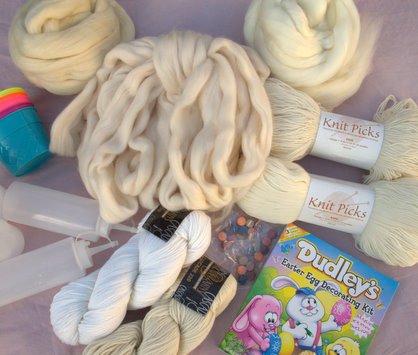 All you will need to provide yourself is the dye pot, tin foil or steamer, plastic wrap, vinegar, and a few other household items. Since this package will be pretty large, we've limited this portion of our contest to people who live in the continental United States, but don't think that we have forgotten about the rest of you. We will have a separate drawing for copies of our original patterns, the Hawkeye and Kiddie Cadet hats, for those of you living in either Alaska, Hawaii, or abroad.
To enter just tell us what you're wishing for most this holiday season. If you live outside of the continental United States, please add that to your comment we can make sure you get entered into the correct drawing. The contest will run until December 27, noon PST, where we will use a random number generator to pick the winners. Also make sure to enter your email address when entering. It won't be shown but we will need it to contact you if you win. :)