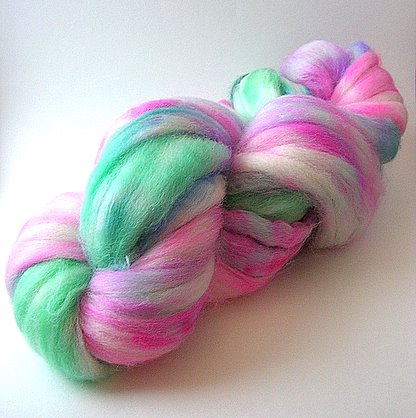 Ok, so I wanted to show you how these other two rovings turned out before we fly out to Boston tonight. What you see up top is 4 oz. of Brown Sheep Superwash from Paradise Fibers. I tried to get a more subtle mix of colors, but still after dyeing quite a bit of yarn and some fiber now with Easter egg dyes I have yet to achieve pastel or really muted colors. I still like the effect that this yarn has, though, and hopefully it will be pretty spun up. One thing I have noticed is that superwash wool really takes color well. Every color turns out so vibrant, where as the regular wool colors seem a bit duller. I don't know why it is, so if any of you more experienced dyers know why feel free to chime in! I am still pretty new to figuring out this whole thing, so it is always fun when I kinda catch on and start learning new things during the process!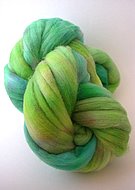 The fiber on the right is once again the "Bargain Blend" from Paradise Fibers. I played around with mixing colors of Easter egg dye this time and mixed yellow and green for a chartreuse color, green and blue for the emerald color, and then also added some purple in a few spots on the roving. The purple created an interesting effect by adding some burnt orange colored spots on the green. When it was wet, I have to say this roving looked pretty horrible, but now that it's dry I really do like how it turned out.
I'm going to let Grace choose which two colors she likes best and then use the other one for when she is teaching me how to spin! I've packed my Spin It! book for the plane ride, so hopefully I can read up and get a general idea of how it all works before she sits down and shows me. I am really excited to learn how to spin after seeing all the gorgeous handspun yarns online and on Flickr. I will definitely let you know how it goes, even if it turns out to be a total flop!
Well, I better get back to the travel preparations. The next time you hear from me I'll be at Grace's in Boston!