Summerlin

Designed by Alice Schnebly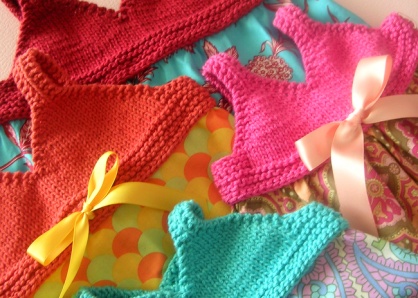 Summerlin combines both knitting and sewing to create a cute and simple summer garment. The bodice is knit and works up very quickly. The skirt uses simple sewing techniques and is much faster to make than if it were knitted. It's also a great way to add fun colors and patterns to your knitting without having to use complex knitting skills! I've added three different fabric bottoms to the pattern that you can create—two gathered skirt versions, as well as a super-simple apron top for novice sewers.
I hope you have fun choosing fun yarn and fabric combinations, and enjoy creating cute outfits for your favorite little princess as much as I have for mine!
Sizing
Sizes to fit girls 1 (2, 3, 4, 5) years with 18 (20, 22, 24, 26) inch chest size. Ages are approximate. Actual finished chest measurements are 17 (19, 21, 23, 25) inches.
Yarn and Fabric Requirements
1 skein TLC Cotton Plus (51% Cotton/49% Acrylic, 100g/178 yards) or Lion Brand Cotton Ease (50% Cotton/50% Acrylic, 100g/207 yards); multiple bodices can be made from one skein.
½ yard to 2 yards light to medium-weight coordinating cotton fabric.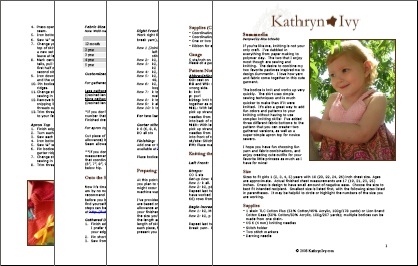 Download Now!, 5 pages, 850KB, Available as PDF
Supplemental Pattern Information
More pictures of all versions of the pattern can be found on Flickr.
You can read more about this pattern in these posts.
Versions shown in the pattern are made from the following yarn and fabrics:
Page 1: More Gathered version, size 3, TLC Cotton Plus in Light Rose, Amy Butler Covington Tile in Marmalade
Page 2: Less Gathered version, size 3, TLC Cotton Plus in Red, Girlfriends Nuala in Turquoise/Red
Page 4: Apron Top version, size 3, Lion Brand Cotton Ease in Terracotta, Amy Butler Dew Drops in Tangerine
Page 5: (clockwise from top left) Less Gathered version, size 3, TLC Cotton Plus in Red, Girlfriends Nuala in Turquoise/Red; More Gathered Version, size 1, TLC Cotton Plus in Hot Pink, Amy Butler Covington Tile in Marmalade; Apron Top version, size 1, TLC Cotton Plus in Turquoise, Amy Butler Mod Paisley in Cream; Apron Top version, size 3, Lion Brand Cotton Ease in Terracotta, Amy Butler Dew Drops in Tangerine
If you need help with the sewing portion of the pattern, the following pictures will help guide you through the process (click to enlarge.)