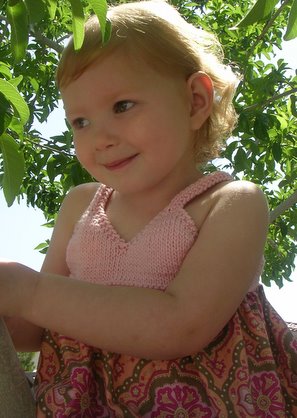 Project Specs
Pattern: My own—I'll hope to write it up as a free pattern soon!
Size Completed: 22" chest
Yarn: TLC Cotton Plus, 31g (56 yds)
Fabric: Amy Butler Covington Tile in Marmalade, from the Charm Collection; slightly more than ½ yard
Needles: Size US6 Denise Needles
Date started: 4-16-08
Date completed: 4-19-08
See it on Ravelry

After knitting so many mittens lately, I decided it was time to knit something a little more weather appropriate. It's been absolutely gorgeous out and next week we're supposed to creep up into 80 degree weather here—and even have some days in the 90s before the month ends! I've wanted to knit Camdyn a dress for quite some time, but I kept thinking a fully knit dress would be a bit heavy. I've also had the urge recently to break out the sewing machine and use up some of my pretty fabric (I learned to sew many many years before learning to knit, though I'm not nearly as good) so this is what I came up with.

I chose to work with TLC Cotton Plus for the bodice because it's machine washable and I still have a ton of this stuff in my stash. Overall it's a good yarn for the price and it seems like I've found a million uses for it! It is a little splitty which gets annoying, but I think I'm used to it now after working with this yarn so much. It does work great in this application though and it's sturdy enough to hold up the skirt while still being warm weather friendly.

I do like the end result of the skirt but getting there wasn't as easy as I'd expected. It has been quite some time since I've done gathering and it took a bit of time to get used to again. Gathering the skirt and pinning it to the bodice at the same time was a bit fiddly. There are some kinks I still need to work out. It probably would have looked a lot prettier on the inside if I would have hand sewed it all together. To be honest though, who is going to see the inside, right? This was the first time I've sewed on knitting and it was a new experience. It went pretty quickly, but I think I need to look for some tips on the internet before I try again!
I definitely plan on making a few more of these dresses for Camdyn to wear this summer. It came together pretty fast and the end result is so cute! I can't imagine how much longer it would have taken if I would have knitted the whole thing. I'm also thinking of a couple different skirt styles that would look cute so I may try out some new things next time. I'm hoping to write this up as a free pattern for a few sizes—maybe 18" (1 years), 20" (2 years), and 22" (3 years) chest sizes? What do you think? Are there any other knitters/sewers out there that would be interested in making this? Let me know!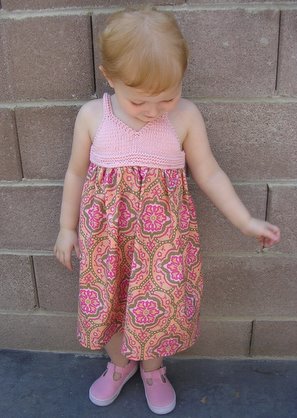 P.S.—Remember, you can still enter our Blogiversary giveaway until tomorrow at noon! Don't miss out on the chance to win some great prizes!