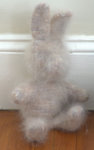 I've been on another knit toy binge. On Friday I finished knitting and seaming the bunny I was working on. Boy did the seaming take a lot of time! I also found the instructions for sewing on the feet to be a bit confusing. I'll elaborate once I get him totally finished. I felted him on Friday night, but it has been so humid here in Boston that he still needs some time to dry. I've ordered a bunch of plastic safety eyes and stuffing beads from CR's Crafts; hopefully they will arrive sometime next week. I didn't have big enough eyes for my bunny on hand, so I won't be able to finish him until the package arrives. They've got a really great selection of doll and toy making supplies, and their safety eyes are really reasonably priced compared to others I have seen on the net. I forgot to buy some more polyfill though, and I'm just about out. I guess I will have to lay off making toys for a while until I get more!

While waiting to finish the bunny, I started knitting Spherey, from Jess Hutch's Unusual Toys To Knit booklet. I started it last night, and am about finished with the head/body. I still need to add a mouth, but I am putting it off because I'm really terrible at embroidery. For some reason my knitting hasn't been the best on this toy. I really need to learn to loosen up when knitting on DPNs! I will have more on this guy after I finish him, which should be sometime tomorrow. He isn't the first Spherey I've made, but he is the first that I knit using the actual Spherey pattern. I'll tell you what I did for the others tomorrow!
I had to leave you with one final note. A while back I accused my kitty, Peanut, of stealing one of my Denise needles and hiding it somewhere. Well I am making a public apology to him right now because I found the needle in a bag of random knitting stuff. It was sitting next to my desk all this time. Sorry Peanut!!