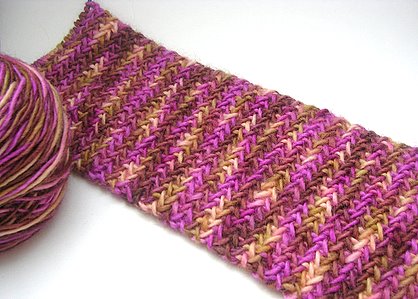 This is the first time in a long time that I haven't loved a project right off the bat*. This is my "My So Called Scarf" that I cast on for yesterday in Lorna's Laces Bullfrogs and Butterflies. I've already had to start over once—my first attempt produced some really odd color pooling that I wasn't happy with—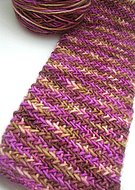 so I began again with an extra 4 stitches, and it seems to have resolved the problem.
Let me tell you, this yarn does not frog well. I don't know if it was the yarn combined with the stitch pattern, but it was nearly impossible to rip out those few inches of that trial version. The yarn has 15% mohair content, which I am sure accounts for much of the stickiness. All I can say is—I hope I don't mess up! That is, mess up again, because I already did once and un-knitting back a few rows stitch by stitch in pattern was not fun!
That said, I do love the colors of this yarn. The orchid purple combined with shades of brown and cream really pop. The colors actually remind me of a nice and fragrant floral potpourri—and they also really meld well with the new Project Spectrum colors!
*After taking pictures I'm kinda loving it more… how can you not love this stitch pattern?