Birthday season for my family is coming up again, and I've been trying to figure out what to make everyone! My mom and two sisters all have their birthdays in August, and I have a few ideas on what to make/get them (although some things will have to be kept quiet until after they've been given). This year I want to give at least one handmade gift to each person for their birthday and Christmas, so I've also been thinking about getting a jump start on Christmas gifts… it's only 5 months away you know! Last year I started way too late in mid November and felt way too rushed. Hopefully this year I an knock out a few knits early so I won't feel stressed once December rolls around.
Yesterday I started on a gift I am making for my sister Diane's birthday. She really loves octopi and squid, so when I came across this octopus pattern by Hansi Singh on Etsy I knew I had to make it for her! It looks really beautifully designed and isn't cartoony like most knit octopus patterns out there. I worked on it most of yesterday and finished the tentacles and the mantle/head so I am pretty much done! I need to go out today in search of some pipe cleaners so I can finish this little creature tonight. I can tell that this little guy is going to be tons of fun to photograph. More to come on this guy when I finish him!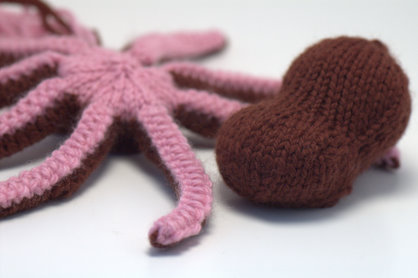 I didn't notice until after posting how similar the colors of this octopus are to Alice's Neapolitan Inga hat!