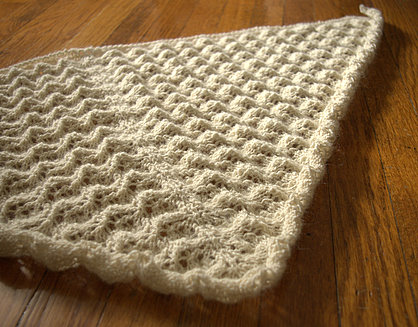 Wow I can't believe it! For the past few days my Flower Basket Shawl and I have been inseparable, and last night I finally finished all the body repeats as well as the edging. I waited until this morning to knit the last row and bind off, because I didn't want to mess anything up. I think my fingers deserve a good rest after this one, at least I was able to talk Si into giving me a hand massage after I finished up.

The previous two days have really been a test of my nerves, since I spent several hours ripping back rows due to stupid mistakes. The rows in the final few repeats seemed so long! First I made the mistake of setting my knitting down half way through a row, and when I came back to it several stitches had slipped off the needles and migrated down three of four rows. What a pain!! I didn't knit with a life line, so I had to do a bunch of unraveling stitch by stitch. That's what I get for not using point protectors I guess! Also last night I was so close to finishing, checked my work, and caught a missing yarn over in the previous row. At least I caught fairly soon, and it didn't take me that long to fix.
I've got it blocking right now, and hopefully it will dry in a few hours. However it has been so humid here lately that I wouldn't be surprised if it takes all night to dry. I'm not too sure about the scalloped edge at the moment. I might take the edge wires and guide them through a different part along the border to try and make the scallops more cured. I'll leave you with a few blocking photos, but I'll have a full post on this shawl when it's finished drying!
PS I wanted to thank everyone for their suggestions on the lace yarn! I am definitely going to try those out in the future!!